HONG KONG—People opposed to the pro-democracy protests that have paralyzed Hong Kong for nearly a week took matters into their own hands this afternoon, in what appeared to be an organized attack on three different protest areas. The result was a series of chaotic scuffles involving protesters, their opponents, and police. Human rights group Amnesty International accused police of not protecting female students who claimed they were assaulted in the dense crowds.
The groups, predominantly male and middle-aged, tore down the makeshift tents that demonstrators have been using to take shelter from heavy rains, surrounded students, and sometimes physically attacked demonstrators. By nightfall, things had gotten worse, as crowds of people grew.
At a protest site in Mong Kok, a working class neighborhood where protesters have overtaken Kowloon's normally busy Nathan Road, crowds tore down tents and encircled protesters standing under the last Occupy tent on Nathan Road.
"They are pushing for democracy, but not supporting our democracy," one man in a purple polo shirt, who said he was 50 years old and from the New Territories, told Quartz. "Transportation is bad, people can't go to work. It is really inconvenient." Several of the anti-Occupiers told Quartz they were from the New Territories, the area of Hong Kong north of Mong Kok.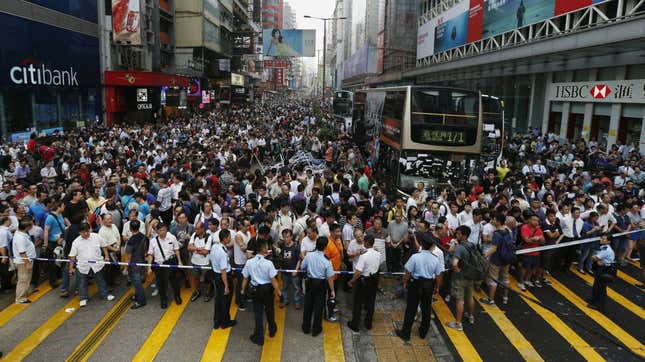 Police formed a loose line between protesters and the anti-protesters groups, but failed to stop several physical altercations."Clear the area, Clear the area," the anti-protester group chanted several times. Scuffles broke out as anti-protesters attempted to break through the police cordon to reach the protesters. In the afternoon, the anti-occupiers outnumbered the protesters who left one by one, to jeers and cheers from the crowd. But by early evening, supporters of the students swarmed the area, chanting "protect the students" and forcing the anti-protesters to leave.
"I think there was planning," Frank Yau, a 21-year-old student at the protests, said. "They all came here at the same time. Something is going on." Protesters yelled "Go back to China" at the anti-protest crowds, and "leave work, leave work," insinuating that they had been paid to be there. You can see what's happening in Mong Kok on TVB's live feed camera (which may not work in some countries).
Some anti-occupiers insisted that they had not been paid to be there. Lau Lee Keung who lives in the New Territories said the occupation in Mong Kok had disrupted his commute home from the airport where he works."I came on my own. No one paid me," he said, showing Quartz his Hong Kong identity card to prove he had not been sent from mainland China to demonstrate. "I support the Hong Kong government," said 51 year old Cheung Chiu Wan, who also showed his Hong Kong identity card.
Other residents didn't believe the protest movement in Mongkok had interrupted their daily lives. "I don't necessarily support the protesters, but I don't think they are wrong. What they are doing is legal. It's not a disruption," said a 50-year-old local resident who works in publishing and asked not to give his name. "It's actually nice. The air is fresh," said David Chen, 35, who works at law firm nearby, referring to the lack of traffic all week.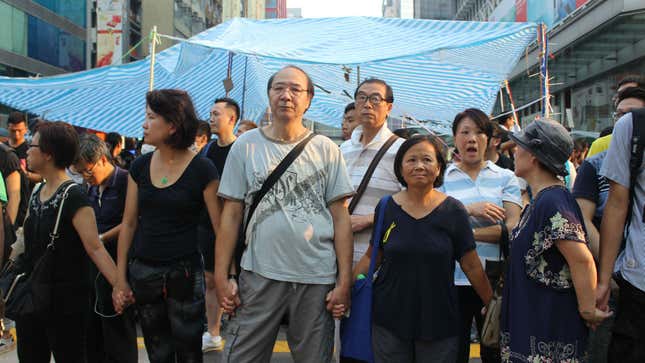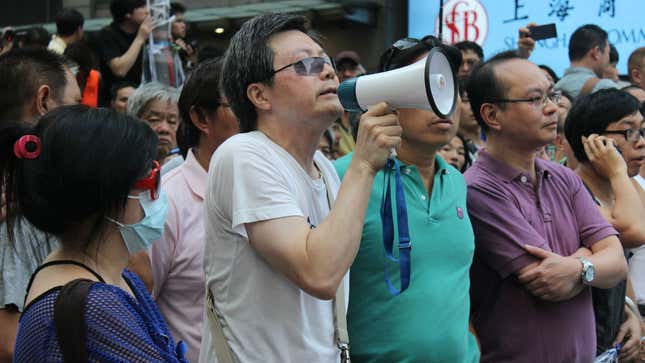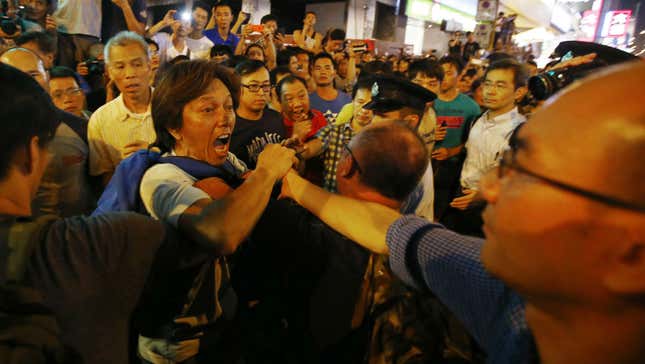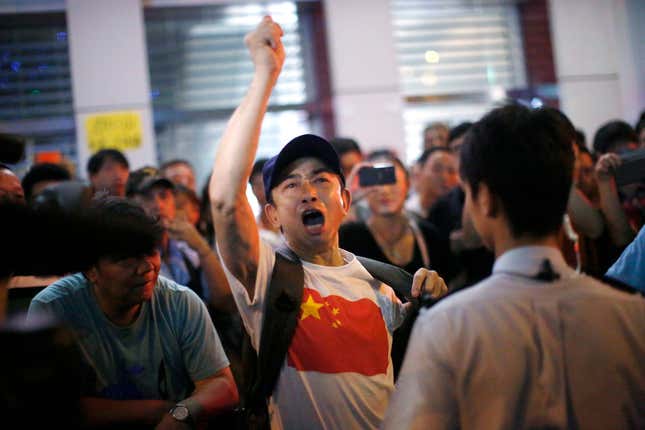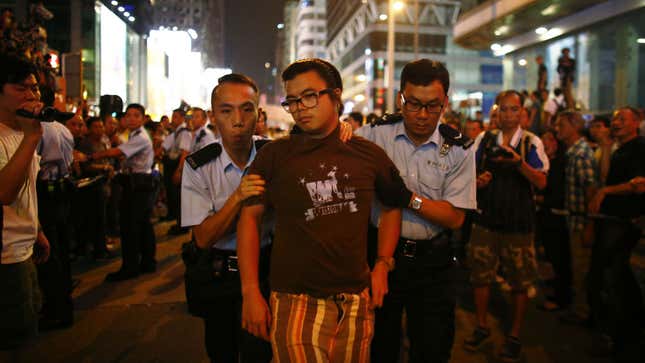 New York Times reporter Austin Ramzy posted several photos and videos from Mong Kok detailing a heated confrontation:
The police seemed unable to control the fighting, reported the Financial Times' Josh Noble:
Several foreign reporters said they were asked to leave:
One was assaulted:
And at the protests epicenter in Admiralty, pro-Beijing groups are starting to arrive, say reporters on the ground:
The South China Morning Post reported "altercations throughout the day between protesters and members of the public who want them to leave" at the Causeway Bay protest site, including a man who was restrained by police after he "tried to physically assault protesters," and complained "that he has two children and can't get to work."
The three groups behind the protest said in a statement Friday night that they would call off talks with the government if the government did not "immediately prevent" the "organized attacks on supporters of the Occupy movement."