"Convenience" has long been the defense of people who illegally download movies and television shows for free on the internet. If you live in the US, it's time to admit you're probably doing it for other reasons.
Literally all of the top 100 box office hits—and 96% of the top 100 TV series—are legally available online in the US, according to a study by KPMG. The study looked at the availability of movies and shows on a multitude of VOD (video on demand) services, including Netflix, Amazon Prime Instant Video, Hulu Plus, iTunes, Redbox Instant, and others.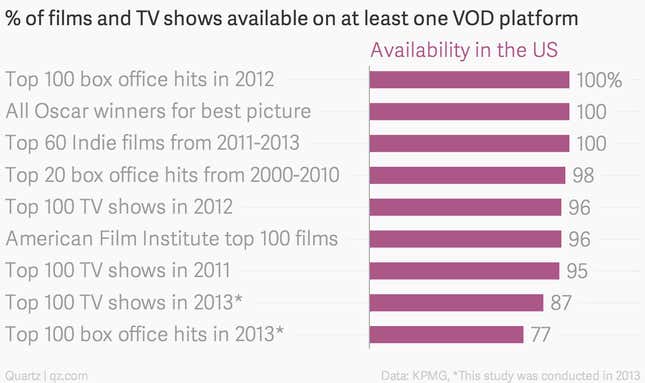 A survey of Australians conducted in 2010 showed that 42.4% of people who watched pirated movies do so out of convenience, while 43.5% said they did it because going to the movies is too expensive. Likewise, 41.5% of those who watched pirated television shows said they did so because it allowed them to watch shows whenever they want; 50.7% said it was because they had to wait too long to see their shows on TV.
Those excuses aren't really valid anymore if you're an American. Most of the popular streaming content providers are not all available in every country (Netflix is not currently available in Australia, for instance)—but they are in the US. And, let's face it, the majority of popular movies, and especially TV shows, are available in the US long before they are in most other countries. If you live in the US, you rarely have to wait for your content to fall conveniently into your lap. Waiting isn't a problem, and neither is availability.
What is still problematic is cost. Both movie ticket prices and the cost of internet are rising fast.