HONG KONG—The city's top official, chief executive Leung Chun-ying, issued an ultimatum today to the protesters who have taken over three neighborhoods in the city: Clear the roads and a stronghold in front of the government's headquarters by early morning on Monday, Oct. 6, or he will "take all necessary actions to restore social order."
The threat comes as clashes continue to break out across the city between protestors, who have called for Mr. Leung's resignation, and people who oppose them. Much of the action is centered in the working-class neighborhood of Mong Kok. Protesters and some legislators have criticized the police for not doing more to protect protesters, who were attacked and, in some cases, sexually assaulted by the anti-Occupy groups.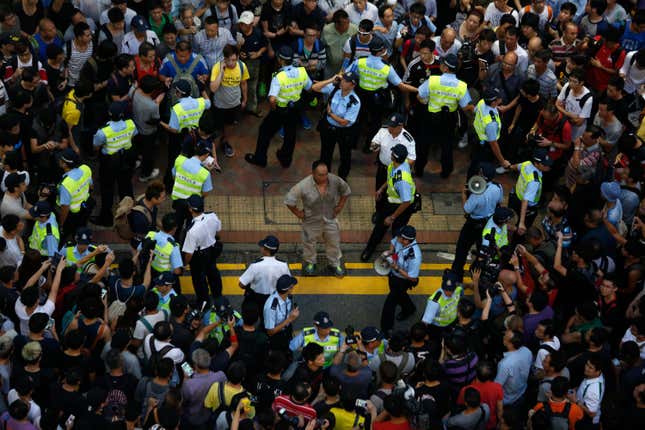 Meanwhile, tens of thousands of people have gathered at the protest's epicenter on Saturday night (Oct. 4), galvanized by the previous night's violence.
How Hong Kong's government and police handle the situation before the start of the work day on Monday will signal the city's—and China's—tolerance for political dissent and free speech for years to come. Hong Kong's "one country, two systems" model, which guarantees residents the right to free speech and universal suffrage, has faced its most prominent test yet from the protests. The government's possible reaction to the protests is already being gauged against the Tiananmen crackdown in 1989 that left hundreds dead and shaped China's policies for the next 25 years.
Already, the situation has drawn international attention from world leaders, most recently from German chancellor Angela Merkel, who called today for free speech in Hong Kong to be protected just days ahead of a German-Chinese summit in Berlin. Beijing has let it be known, through a series of strongly-worded editorials in the Communist Party mouthpiece, that it considers the protests "unlawful and unreasonable." The government has also reiterated its support for Mr. Leung and said it would not rethink an August decision to vet Hong Kong's political nominees before they can run for election.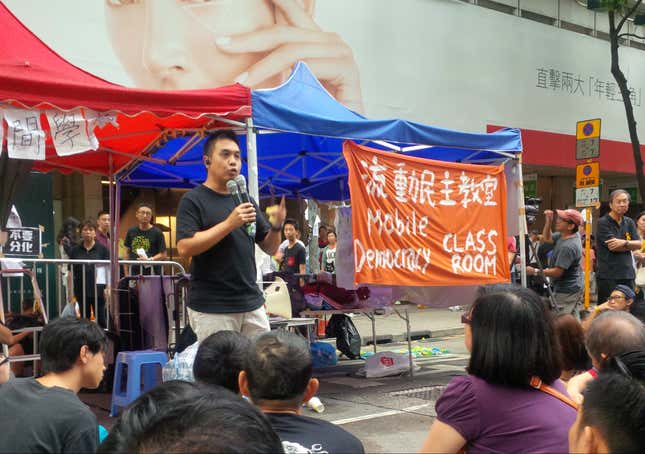 That hasn't deterred many protesters and pro-democracy activists. This afternoon, several taught at a "mobile democracy classroom" in Causeway Bay. The reaction on the streets has been "awesome," said lecturer and environmentalist Alex Chan, who spoke about the links between free elections and environmental issues, including waste management and Hong Kong's endangered white dolphins.
Nearby, pro-Beijing supporters came out dressed in Chinese flags and Red Guard uniforms, but both sides remained peaceful. There were small scuffles, but a heavy police presence insured they didn't escalate.
The broader situation could play out in several ways over the next 36 hours. Protestors could voluntarily clear the streets, but that does not seem likely. There could be a peaceful reconciliation, but there are no signs of that right now. Or Hong Kong's police could use force to clear the streets, as Mr. Leung appears to be threatening.
The sun rises in Hong Kong at 6:16am on Monday. What happens after that will offer a very visible sign of China's intentions for the city.