The era of news media based on single product is over. In every field, diversification is mandatory, but yields will vary. Decisive prioritization will make a big difference. 
Below is a list—by no means exhaustive—of products and services to be found in most media organizations. Their targets include both individual customers (I use the term on purpose because it goes well beyond the notion of readers), as well as corporate clients. Difficult as it may seem, I've assigned a tentative value to each item. In turn, the sum of items in any given mix must translate into the famous Average Revenue per User (ARPU), a number that should be everyone's obsession. (In the end, the metric of choice ought to be the Margin Per User, but it is very complicated to assess for two reasons: one, some products take a while to take off and, two, in integrated media companies, most resources are spread across many products.) These precautions aside, here is a quick overview: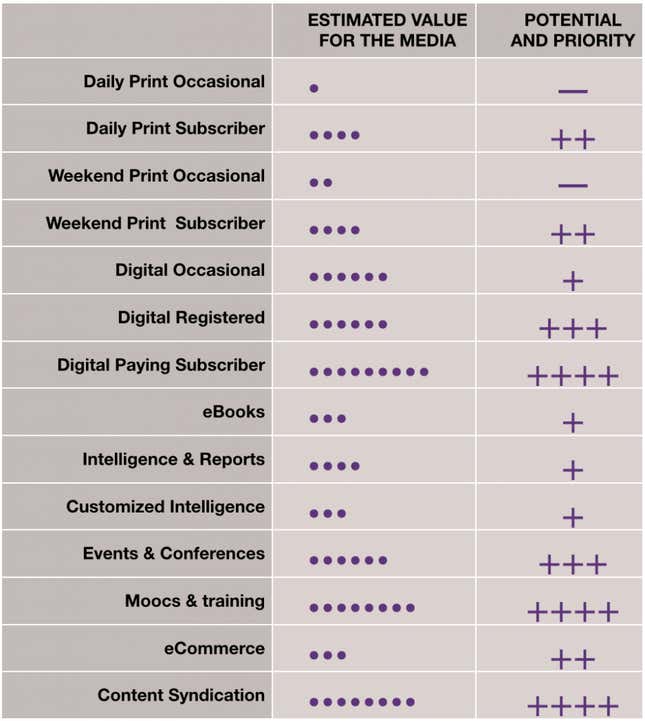 Now, let's examine each item in detail, looking at the nature of the product (or service), its business potential and its priority level.
Daily Print Occasional Reader. This is, by all means, the least valuable customer. For premium brands that increased their street price in recent years, the margin can remain significant. But, for the vast majority of media outlets, the costs of serving occasional, rare customers in remote places are staggering. The practice needs urgent reassessment. In most cases, this means eliminating the weakest point of sales.
Potential: Zero. Setting rare exceptions aside, this amounts to decay management.
Priority: Low. (Well, high priority when it comes to cleaning up this line of business.)
Daily Print Subscriber. Its indisputable value relies on a single fact: Some customers (note the emphasis) will pay almost any price to see their dead-tree copy on their doorstep or on their desk every morning. True. But less and less so. It won't resist the generational shift nor the objective practicability—and depth—of the digital vector.
Potential: Limited due to unavoidable reader depletion
Priority: Limited. Stick to the well-known mechanism of subscribers gathering (good data management helps).
Weekend Print Occasional Readers and Subscribers. Basically, same as above—with one caveat: Some weekend print products still bring sizable advertising revenue. In the US, large dailies are said to bring half of their revenue on weekends (another reason to reconsider weekday products).
Digital Occasional Reader. Can be funneled in through SEO and similar tactics. In most cases, annual ARPU (mostly ads) remains in the single digit.
Potential: Depends on the ability to go for volume and on decisiveness in terms of advertising creation. To put it another way, if you stick to IAB-like formats, you're doomed. Conversely, If you take control of advertising creation on your own properties, the stakes rise quickly.
Priority: High. Go beyond the usual low-yield system.
Digital Registered Users. In short, anything must be done to get your audience to leave names and email addresses. These are your high-contribution customers of tomorrow. Then, don't spare any resource, both in terms of technology and smart people to operate it.
Potential: High.
Priority: Top.
Digital Subscribers. For quality media, this is the most precious revenue stream. (It doesn't apply, of course, to commodity news providers or aggregators who bet solely on volume.) Hence the importance of harvesting as much registered users as possible. Next step is to work on the conversion rate. A good CRM mechanism is a plus, but a great, valuable, unique product is mandatory. User's won't pay for digital access (whatever the platform—desktop web, mobile, web, apps) unless they are convinced that you provide irreplaceable stuff.
Potential: High.
Priority: Top.
eBooks Publishing. Disappointing, so far. This must remain cheap to operate. Preferably, opt for partnering with an established digital publisher eager to take advantage of your brand's reach and reputation. They'll do the tedious part for you, sparing you most operating costs.
Potential: Average, can become a quiet and steady P&L contribution.
Priority: Low.
Intelligence & Special Reports / Customized Intelligence. This only applies to highly regarded B2B brands. It can be expensive to operate (it requires specialized staff—that must be kept small). Highly customized, bespoke intelligence reports carry significant upside, but they border on consulting.
Potential: Sizable if you are able to sell high premium products to a high-paying niche of solvent customers (every word in the phrase counts).
Priority: Average. There is a significant risk of losing money for a long time before achieving traction.
Events & Conferences. According to people who organize such, the segment is (a) very crowded, (b) highly dependent on the general business climate. Conference attendance usually is the first budget item slashed by corporations in down times. One sure thing, tough: Conferences & Event indeed are editorial products. They must be supported (ideally induced) by the news staff; like the so-called enterprise journalism, they must be the product of deep editorial thinking, with an angle; and they must be focused on providing something unique. If these boxes are checked, high margin will ensue. (Read The Eight Types of Journalism Events That Works on PBS Blog)
Potential: High if well engineered and executed.
Priority: Depends on the level of competition in your market. I'd say: High.
Moocs & Training Products. One of my favorites. Three reasons: One is demographic: More and more people will have no choice but to immerse themselves in deep training simply to survive in the job market. The second is the dual market potential: Corporate for paid-in-advance products, and B2C for sponsored courses. I no longer believe in the ability for a media company to collect paid-for users since big Mooc outlets (Coursera, Audacity, Kahn Academy and others) are sterilizing the business of online education by proposing great courses at no charge. But media can leverage on their brand, reach, as well as their portfolios of advertisers.
Potential: High
Priority: Top. Because we are talking about tomorrow's customers here. Better start showing up on their radar. Risk is limited as long as you stick to a cost structure in which productions costs are pre-guaranteed.
eCommerce. Important, but impossible to detail here: Too many possibilities. Some media are doing well selling tickets for sports events or concerts, other are more into high-priced items aimed at corporations. In the end, it depends on the performance of your lead-gathering machine. Many companies are learning fast. Potential varies widely, depending on your market.
Content Syndication. This needs serious consideration. Digital news is overwhelmed by shallow, recycled, often mediocre contents. Premium is rare because it's expensive and risky to produce. Therefore it carries tangible value. Hence the importance of a selective dissemination towards outlets that can't afford original production. In order to realize its full potential, quality editorial production needs the adjunction of essential attributes such as granular semantic and a powerful, API-based distribution platform.
Potential: High (especially for well-structured and well-distributed contents).
Priority: Should be on the very Top.
Again: Many more items can be added to this enumeration. But a fact insists: As journalism sees its economics faltering, diversification is mandatory. It requires agility, light structures (in some cases disconnected from the mother ship), dedicated staff who think fast and react faster. The upside is promising.
You can read more of Monday Note's coverage of technology and media here.