HONG KONG—By this time today, Hong Kong's streets and government buildings were supposed to be clear of protesters that have brought parts of the city to a standstill. But despite pledging to "take all necessary actions" to restore order, Hong Kong's government has allowed the protesters to remain—even as their ranks have been diminished, at least temporarily, by those returning to work and school for the day.
The strange impasse has created a surreal atmosphere in the city known for its efficiency and professional focus, as office workers sidled past barricades and wandered down empty closed-off streets to get to work, while protesters clad in masks and goggles sit in tiny, tired groups. The situation is also raising questions about Hong Kong's governance over the long term.
Protesters give an inch
Protesters cleared a corridor through the blockades outside one entrance to the government's headquarters building on Sunday night, after protest leaders and government representatives agreed to meet for the first time. On Monday morning, makeshift tents and supply centers still dotted a main highway in the center of town, and protesters were sprawled in the middle of key roads as government employees filed in to work.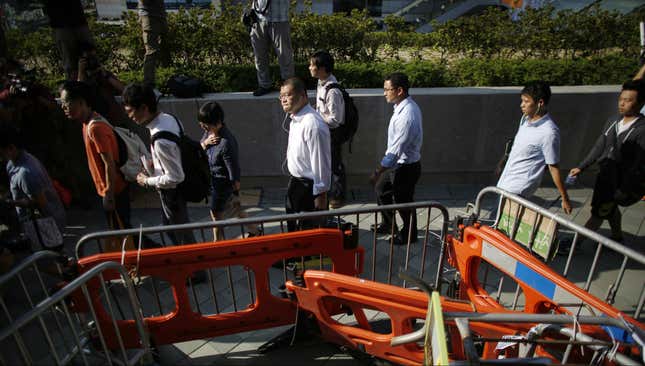 "We're going to see how the government reacts," said one 19-year old protester at the entrance, who said his surname name was Lui, sitting near the cleared corridor. Because of the corridor, government employees "can go back to work, and other citizens won't blame us," he said.
Lui said he and the scant dozen protesters sitting near him had decided to clear the corridor themselves, rather than acting on specific directions from student leaders or Occupy Central, the groups that started the protests. "We don't know what direction this is headed, and we don't know what to do next," he said, so his group was acting on its own.
A threat unfulfilled
Hong Kong chief executive CY Leung's failure to back up his hard-line pledge indicates that the government's strategy is also far from fully-formed.
By not forcefully uprooting the protesters as threatened, Leung may have saved Hong Kong's government from another ugly backlash like the one that swelled protesters ranks after they were tear-gassed last weekend, but the long-running nature of the protests has raised serious questions about how the crucial financial hub will be governed going forward.
 "The basic question of governance is on the agenda," Fitch Ratings, the credit rating agency, said on Monday, while noting that Hong Kong's ratings outlook is stable. "The central issue is whether the territory has a government, however chosen, that rests on a basic degree of consent among the population, allowing it to draw up and implement effective policies." Without that, "protests and disruption could flare up again," making the city a less attractive place to invest.
Fighting fatigue and chaos
Many members of the young student groups that were one of the driving forces behind the protests, were exhausted after a week of confrontations with police and reputed organized crime members, and unsure how to move the movement forward.
Just a few hundred yards away from the cleared corridor, on the other side of the government headquarters building, another group wearing face masks and goggles blocked a separate entrance to the government headquarters that was still fully barricaded this morning.
"We're not going to remove it at all," said W.W., a 30-year-old freelance filmmaker who was manning the area. That decision had been taken by the group of about 20 people who have been sitting in front of the entrance in recent days. "While publicly there are three groups in charge, this location is self-operated," he said. "The whole movement has been like this for several days."
Protester barricades have kept all of Harcourt Road—a main thoroughfare in the center of town that stretches to eight lanes in spots—completely closed to vehicle traffic, despite the sparse crowd.
Because of the promised crackdown, many protesters had been gearing up for a tough night and they seemed somewhat amazed Monday morning with the lack of police response.
"How could you imagine we could block Hong Kong for nine days?" said Johnny, a 38-year old actor who was sitting with a small group outside the barricades in front of one entrance to the chief executive's office. He said he had been with the protest since Sept. 28, albeit with breaks for showering and sleeping. "I expected them to clear us, but it looks like they won't," he said. Every day, Johnny said, he woke up and wondered: "Where will we go next?"