Meteorologists this weekend issued new weather forecasts for Brazil's coffee belt region, saying that predicted early-October rainfall won't be arriving after all. The lack of rain is expected to stunt the country's arabica crop. Accordingly, coffee futures, which have been climbing throughout the past few weeks, are even higher this morning: $2.21 per pound as of 10:05 am on the New York Mercantile Exchange.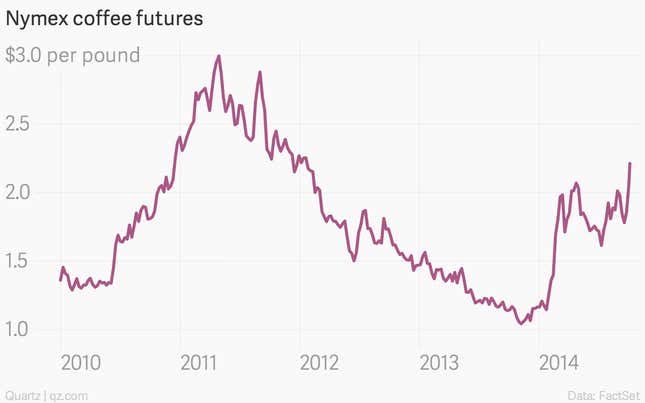 Brazilian coffee production was already hurt by a severe drought in the first three months of 2014. It rained in July, but now that October has come around it's time for the arabica trees to flower, for which they need moisture. Without rain, the flowers may fall off without producing the cherries that are later harvested for their seeds, or beans.
A surprising outcome in Brazil's presidential elections this weekend may also have something to do with today's coffee futures. The Brazilian real gained against the US dollar after pro-business candidate Aécio Neves challenged incumbent President Dilma Rousseff with 33% of the first-round votes, forcing a runoff later this week.
Neves has pledged to slow inflation, reports Bloomberg, and speculation that he might win the election has given Brazil's currency a boost today—another factor lifting coffee prices.
Arabica coffee beans account for most of the world's coffee and are considered superior to the robusta variety. Brazil is the source of about one third of the world's coffee and one half of the world's arabica. On the bright side, Colombian production of arabica coffee is expected to hit a 20-year high for its next crop, providing a supply cushion against the Brazil situation.