We are approaching the one-year anniversary of Twitter's IPO on the New York Stock Exchange. In fact, today marks exactly 11 months since Twitter debuted on the big board, and fittingly its shares are having a good day (up about 2% at the time of writing).
Today's rise is being fueled, at least in part, by fresh optimism about Twitter's ability to grow and capitalize on all of those people who aren't registered users, but come across Twitter in other ways—for example, through embedded tweets in news articles, like so:
Twitter is much, much smaller than Facebook in terms of registered and active users. The perception problem about Twitter's true size hit the share price hard earlier this year and arguably is the company's biggest challenge, which may be why Twitter CEO Dick Costolo has been talking for months about growing, and eventually monetizing, the huge audience of people who view and click on tweets without ever logging in.
Today, Deutsche Bank said there could more than twice as many logged-out people who view tweets each month as there are registered, active Twitter users.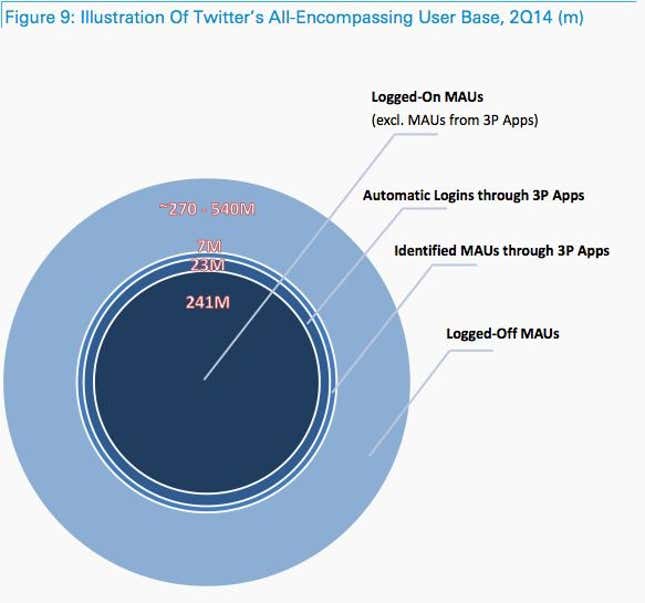 Twitter could grow this indirect user base quite dramatically if it wanted to. At the moment, people who click on tweets without being logged into Twitter are prompted to sign up for the service and/or install the Twitter mobile app. But what if it allowed non-registered users to have a more seamless experience? Perhaps it might present them with an algorithmically generated timeline (like the one it used during the World Cup) based on the hashtag or Twitter user whose feed they clicked through from?
Deustche Bank argues the service eventually could become "a search engine for real-time breaking news globally." Analyst Ross Sandler writes:
Over the coming quarters and years, Twitter is likely to introduce a number of new user experiences for those who don't want to take the time to fully sign up for Twitter to self-curate their home timeline… We've always thought of Twitter simply as the "daily newspaper on your phone" and now that could be true for any user, not just those that sign up and self-curate…
If Twitter were to succeed in positioning itself in this way, and could monetize the results, it would go a long way toward ensuring the stock price continues to hold easily above its $26 IPO price. As things stand, despite proclamations of the death of Twitter, the company's shares have outperformed the broader market since the IPO.