Twitter shares have nearly halved in 2014, wiping billions off the company's market value and raising questions about its future.
As we discussed earlier this year, one of the biggest issues facing the company is its struggle to hold on to new users, who are often baffled by the product. Since then, Twitter has made a string of changes, redesigning its profile pages, and turning on new features such as muting. Expect more user interface changes to follow, especially for new signups.
The company is also apparently looking at getting back into music, with Re/code reporting this week that Twitter is in talks to acquire SoundCloud, in part because of that service's attractive growth profile.
But on closer inspection it's clear that Twitter doesn't have a growth problem, per se. What it has is a perception problem.
At the moment, the numbers show that Twitter has achieved faster growth in revenues than a couple of other kind of successful social network companies have now, and at similar points in their listed company existence.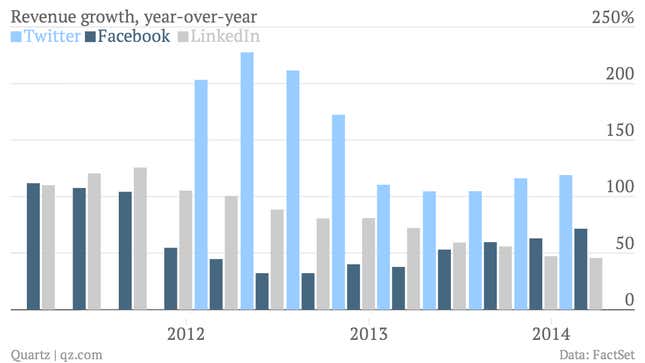 It's a similar story when it comes to all important growth in users. For all the concern about user growth, in percentage terms, Twitter's user growth is faster than Facebook's. (LinkedIn doesn't disclose monthly active users, so there was not a clean comparison.)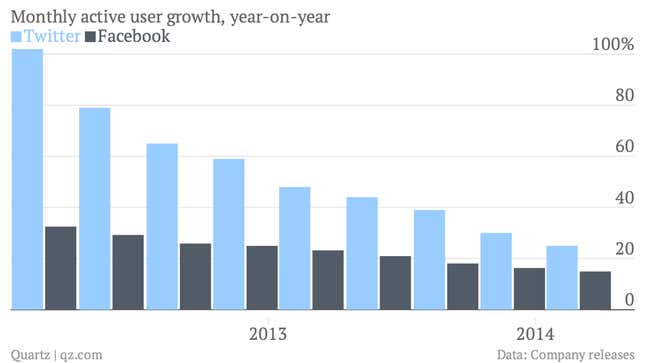 Twitter's huge market valuation is built on the premise that the service will go mainstream, like Facebook. Despite having less than one fifth of Facebook's users, Twitter says that this is already the case. "Twitter, the platform, we believe is already incredibly mainstream and now what we need to do is help that world of users who already experience Twitter everyday understand the value, the increased value of the logged-in experience," Dick Costolo said on the company's earnings call last month.
His argument is based partly on the fact that awareness of the service is high among nonusers—tweets are often shown on television (in news and sports broadcasts, for example, or when celebrities post photos of themselves at the Oscars), and also embedded into countless news articles, for example, this one.
https://twitter.com/qz/status/449361162035945473
The company is hoping to monetize what Slate has described as its "vast indirect audience" by using MoPub, the mobile advertising platform it bought for about $350 million last year, to insert native ads into embedded Tweets.
On the earnings call last month, Costolo compared the Twitter to YouTube, whose content sprawls all over the internet and draws billions of pageviews, far beyond its registered user base. YouTube monetizes this with advertisements in its videos embedded on other sites.
So don't be surprised if Twitter updates its home page and mobile apps to be more like a "front page" for the service, especially for new users. How it filters the oceans of rich content contained inside its service remains the big question.