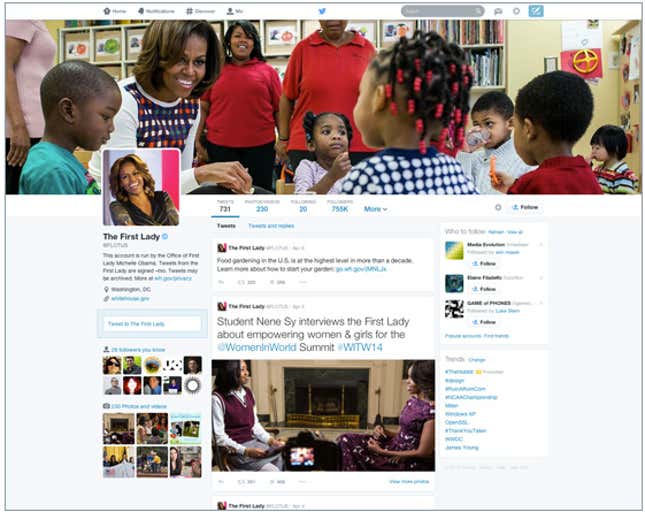 Twitter is about to get very different for millions of people, thanks to a major redesign announced this morning. Above is how first lady Michelle Obama's profile page looks, post-redesign.
Earlier this month, we discussed some of the challenges facing Twitter, why people quit the service, and the potential solutions the company may pursue to fix itself.
Since then, the company has made a string of important changes to its service: It's reportedly preparing to launch 15 new types of ads, has introduced private video messaging on Vine, and bought the Android lock screen app Cover.  The changes are being made more out of necessity than choice, and just how well existing users will take to them remains to be seen.
The profile redesign might be the most important of them all, and already people think the new pages look a lot like those used by the bigger, rival social network Facebook.
According to Twitter, the main new features in the upgraded profiles are "best tweets," which make tweets with the most retweets and favorites appear slightly larger to highlight your best content; "pinned tweets", which allow you to pin a tweet to the top of your page; and "filtered tweets", which allow you, when browsing other profiles, to view tweets, tweets with photos and videos, or raw tweets and replies.
These changes are significant because, according to recent surveys by Morgan Stanley, the main reason that people quit Twitter after trying it comes down to difficulty finding and/or filtering the content they are interested in, and the main reasons that people would return to Twitter also involve better filtering tools.
So how similar are the new profile pages to Facebook, conceptually and aesthetically?  Here's the actor Channing Tatum's page: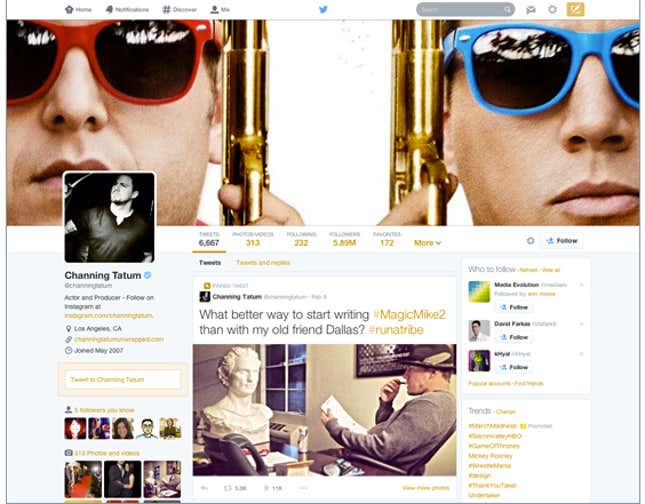 And here is is his Facebook page: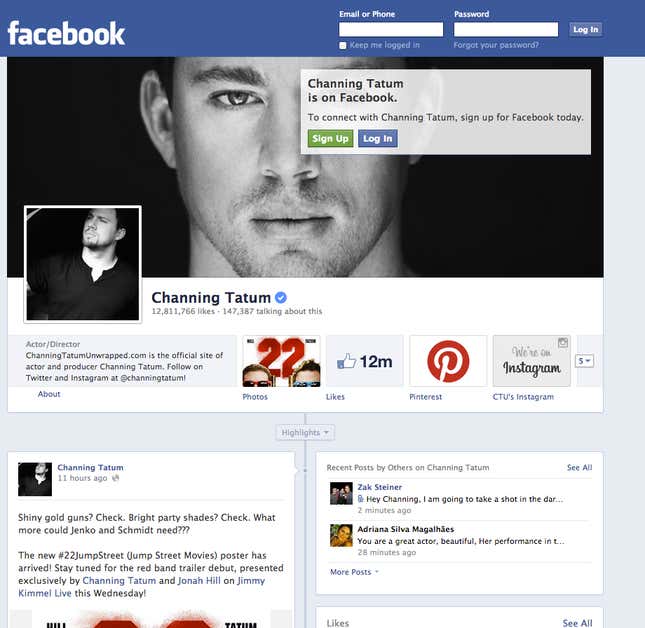 New users signing up will automatically get the redesigned profile. It has also been switched on for a handful of power users and will be rolled out to everyone else over the next few weeks.
This isn't the first time Twitter has been accused of morphing into Facebook (and Facebook, which has changed its news feed algorithm and is increasingly focused on curating content, has been accused of mimicking Twitter).
But the pressure on Twitter to grow its user base is much more acute. And the question is whether its slow metamorphosis into Facebook will alienate its core, devoted users.