Facebook just completed its $22 billion acquisition of messaging app Whatsapp—a bold move that was saluted as a smart way to stay relevant in a constantly changing environment where new apps and services pop up like mushrooms.
But neither Whatsapp nor Facebook—not even Snapchat—appear to be one of the apps teenagers favor.
What teens like most are apps that help productivity, according to Product Hunt, an app that surfaces what's trending in the world of digital products.
According to the founder, Ryan Hoover, the site drives 2 million monthly users to the apps it shows, and 75,000 people receive its daily newsletter. The site's primary function is to share and up-vote new apps (typically 30 to 50 daily), but occasionally users can vote on a themed selection of apps. Users were for instance encouraged to share and vote for apps that could be defined as"The Tinder for X."
One such lists shows a ranking of the "Products Teens Love":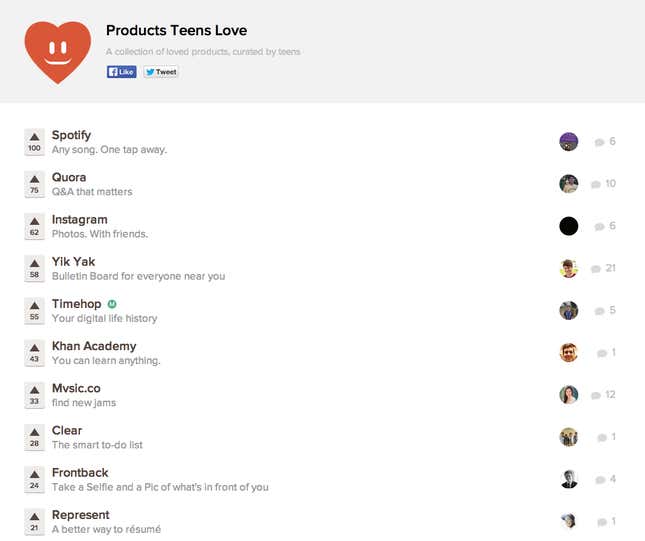 Teenagers—people who don't remember a world before Facebook—have matured in their social networking tastes, with a strong showing from apps that involve photo-sharing and music streaming.
What's more, today's teens are focused on productivity: apps that make to-do lists, offer online classes, and make better resumés are the favorite.
It looks like the new generation of users find the services that Facebook and Twitter provide less relevant, and will look instead for useful, performance-enhancing products.