HONG KONG—The protests that have overtaken Hong Kong over the last 11 days have provided a good test of the Chinese government's creeping influence over Hong Kong media. Many of Hong Kong's media outlets have been accused of self-censorship in recent years, as they court advertisers and approval from Beijing, and more than half of Hong Kong media owners have positions in mainland political bodies.
Since demonstrations began, the playbook for Hong Kong's pro-China media outlets has been to describe the so-called "umbrella movement" as disruptive and the protesters as slackers and ne'r do wells opposed by the majority of the Hong Kong population:
The day after police tear-gassed demonstrators, Headline Daily, Hong Kong's largest-circulation newspaper ran a front-page headline warning of "Occupy Central Chaos," that mostly played up the disruptions caused to public transport.
TVB, Hong Kong's largest free-to-air commercial broadcast station, has drawn over 70 complaints for its biased pro-government reporting. "There is a growing perception that TVB has thrown itself at the disposal of the government to help it win the public relations campaign for Hongkongers' hearts and minds," the Hong Kong Economic Journal observed.
After organized gangs of anti-Occupy protesters descended on Mong Kok on Oct. 3, harassing and sometimes physically assaulting pro-democracy protesters, the 500,000 circulation Oriental Daily's headline the next day was "City Residents Are Angry."
This coverage has often been directly contradicted by other media outlets in Hong Kong:
Beijing's efforts to sway Hong Kong public opinion through media influence may have backfired, as people sympathetic to the demonstrations tuned out media outlets with a perceived pro-China bias, embraced their identity as Hong Kongers rather than Chinese citizens, and opted for pro-democracy news coverage shared via social media.
The day after the organized attacks on protest sites across the city, copies of the South China Morning Post and the Apple Daily, which is often critical of Beijing and the Hong Kong government, were sold out. Those of Oriental Daily were left untouched:
One reporter for CCTV, China's giant state-run TV network, couldn't even get Hong Kong protesters to speak to him.
The situation illustrates how Hong Kong's "one country, two systems" combination of a free press and and a restrictive government can't coexist for long. Hong Kong "is probably the only place in the world that seeks to combine the core civic freedoms of speech, assembly and the media with an authoritarian unelected Government," activist investor David Webb wrote today. "That's because the combination is unsustainable."
One of the clear media winners to emerge from the protests is the Apple Daily newspaper and website, which is owned by billionaire democracy proponent Jimmy Lai. The paper completely dominated Hong Kong media on Facebook, commanding an 89% share of likes and reader interactions, according to data from Social Media Broadcasts. Here are the number of Facebook shares for Hong Kong's Cantonese-language media companies over the past 10 days. (Apple Daily is in green.)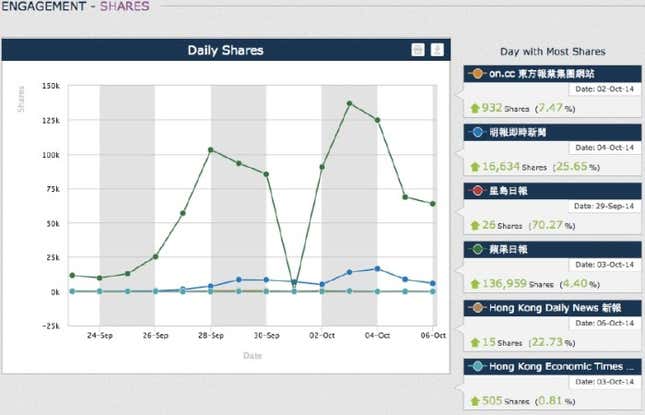 Dorothy, a 23-year old protester and nursing student who has been manning a first aid station at the protests since September 27, told Quartz she gets all her news from Apple Daily's phone app or Facebook. TVB, Hong Kong's public broadcasting network, is "just like government news," she said, so she doesn't watch it. And she never buys a newspaper.
Distrust of the mainstream media also contributed to the volume of protesters, which has reached into the tens of thousands. Vivian Lau, 25, a protester in central Hong Kong, told Quartz last week, "One of the reasons I came here is to see the real situation and get the first-hand information myself."