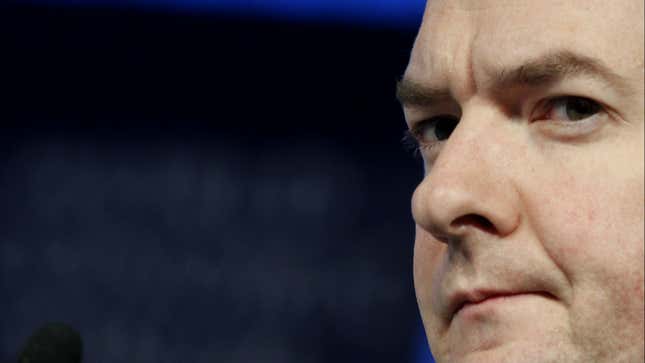 Britain's chancellor of the exchequer, George Osborne, was served notice late Wednesday that Britain could lose its Aaa debt rating if the country's economic situation worsens. The annual update (find it here) from Moody's rating agency said that a lack of growth has hurt the UK's ability to handle further "fiscal or economic shocks", and that the ongoing euro zone crisis would likely hit revenue growth and undermine the country's efforts to reduce debt.
The report said that while key strengths underpin the UK's Aaa rating, such as "a large, diversified and highly competitive economy, flexible labor force and structural reforms", Europe's sovereign debt crisis created "headwinds" to economic recovery. In February, Moody's changed the UK's rating outlook to negative, largely on these same issues. Moody's said it could downgrade the UK's rating as early as next year.
So what could make this happen?
A triple-dip recession. Yesterday Bank of England governor, Mervyn King, warned that the UK economy could shrink in the fourth quarter, calling the recovery "slow and protracted" and cutting growth forecasts to 1% from 2% in 2013. King said that one-off factors like the Olympics had led to a recovery this past quarter, and so wasn't a reliable indicator of the future, and contraction could happen.
Stagflation. Economists are predicting a lethal combination of weaker than expected growth combined with high inflation over the 2% 12-month target—largely due to high global food and energy prices. Prices are increasing faster than incomes, and so Brits are spending less. Indeed, UK monthly retail sales figures out today showed a surprising 8% drop, which doesn't bode well for a fourth quarter recovery. Meanwhile higher inflation is driving up business costs. Last week, King and the Bank of England's monetary policy committee decided against curbing inflation through monetary policy, as it could affect growth and spur higher unemployment, but haven't ruled out asset purchases in the future.
The euro zone crisis gets worse. Today's GDP figures confirmed exactly that. The euro zone returned to recession today with GDP for the 17 countries contracting by 0.1%, after shrinking 0.2% in the previous quarter. While the German and French economies each grew by 0.2%, other countries fared far worse including Portugal, Cyprus, Spain, the Czech Republic, and Italy—all contracting by 0.2% or more in the quarter. Numbers were not available from Eurostat on Greece. The European Union (27 countries) saw GDP growth increase by 0.1%, but overall the news is not good for the UK's recovery prospects, not its prized Triple-A rating.