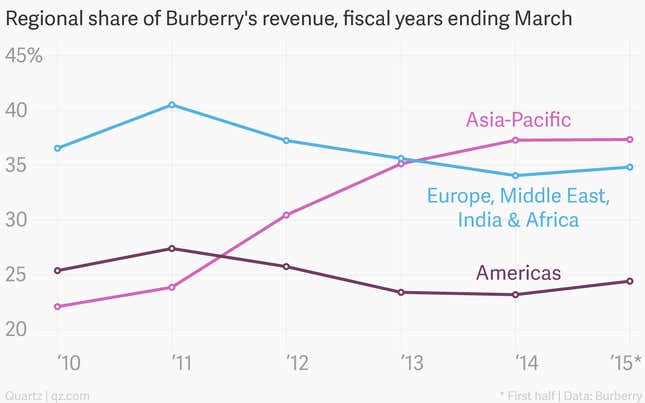 The numbers: Burberry said in a trading update for the six months to September that revenue rose 7%, to £1.1 billion ($1.8 billion), from the same period last year, with double-digit growth in in Asia and the Americas despite a "more difficult external environment." The company opened nine new stores—including six at airports—but closed eight.
The takeaway: Asia is now Burberry's largest sales driver, so the news that it experienced "some softening in growth from Chinese consumers both at home and when travelling" spooked investors. Shares in the company were down by almost 4% at midday in London. Customers in Asia who fell in love with Burberry's trench coats and scarves are feeling the pinch, but other luxury fashion houses are hurting more than Burberry. Richemont, which owns Chloe and Cartier, recently cited slowing demand in China as a factor in stagnant sales growth and Prada barely eked out any revenue growth in its fiscal first half.
What's interesting: These are Burberry's first set of results since a $17 million-a-year pay package for new CEO Christopher Bailey, who is also the company's head designer, was rejected in a non-binding vote by shareholders. The company's owners essentially told the chief executive that he isn't as valuable as the board thinks he is. Facing the toughest conditions for luxury firms in years, does the first-time CEO have what it takes to steer the British heritage label through the storm?