The last few years have been musical chairs for elite designers in the world of luxury fashion. In 2012, Raf Simons took over as head designer of the venerable house Christian Dior after John Galliano was fired in disgrace, while the former head of Dior's men collection, Hedi Slimane, went to Yves Saint Laurent.
Last year, Christopher Bailey made perhaps the biggest leap of all—taking over as chief executive of Burberry after nine years as its creative director. In that time, he had helped turn Burberry from a downtrodden British heritage label—whose iconic check had spawned a million knock-offs to—a multi-billion-dollar luxury fashion giant. The company's shares are up 254% over the last five years.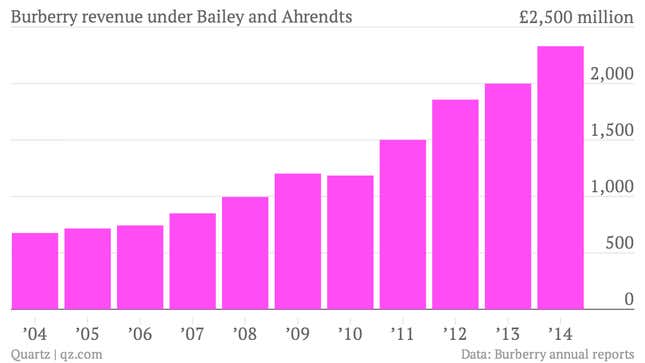 Bailey was rewarded for his loyalty with a base salary worth £1.1 million a year, or $1.9 million, plus a performance-related bonus worth up to 200% of salary. Not forgetting the 1.35 million shares he received outright, which could be worth more than $30 million when he's able to sell them. Burberry said that Bailey could make more than $17.1 million a year for the next five years—should Burberry continue to sell bags and trenchcoats as well as it's doing now. But shareholders are not sure he's worth that much. They revolted, rejecting the company's remuneration report by 53% on Friday. The vote is not binding, though it is a fairly rare example of British shareholders voting against high levels of corporate pay.
Burberry's chairman, Sir John Peace, said preventing Bailey from becoming part of the aforementioned designer merry-go-round was precisely the point. "It was essential that we retain Christopher in the business," Peace said, according to the BBC. "We know that the amount paid to Christopher is a lot of money, but much of it is performance-related… and we are acutely aware that he could command a much higher package outside of the UK."
It turned out this was no idle threat. At the annual meeting of shareholders, Bailey revealed to them that he had two other offers from leading fashion houses outside of Britain to take over—with leaderless Louis Vuitton thought to be the obvious leading suitor. Bailey's compensation pales when compared to his predecessor, Angela Ahrendts, who handed over the reins to Bailey after being poached by Apple to be its new head of retail. Apple kicked off the Ahrendts era by giving her $68 million in restricted stock, which she will receive in four years regardless of performance, making her among the highest-paid female executives in the world.
Bailey is rare as being both the head of the business and fashion sides of the same company. Burberry's investors clearly love Bailey—they approved his appointment by 99% on Friday—yet it seems they aren't quite sure how much that most elusive of creatures, a creative-turned-CEO, is worth.