The 17-nation monetary bloc's economy is contracting again, marking the second time since 2009 the continent has likely slipped into recession. Here's a look at the latest quarterly numbers, showing a 0.1% decline month-over-month.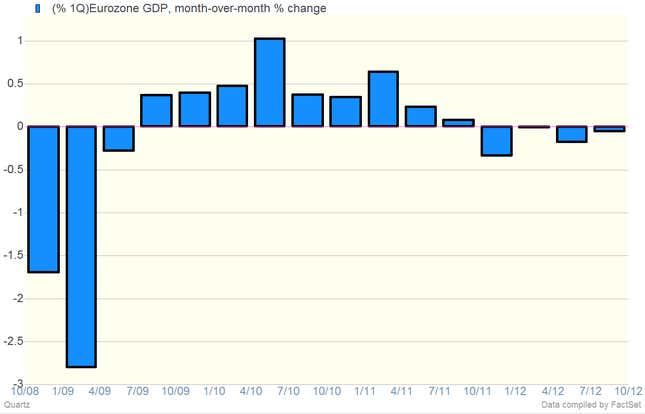 Before you start rending your garments and gnashing your teeth, let's just remember that the short-hand description of "recession" that everyone appears to be using here is two consecutive quarters of shrinking GDP. Technically that's what we've got. But remember that GDP can be revised seven ways to Sunday. So it's not impossible to imagine that 0.1% of contraction could swing into expansionary territory in the second swipe.
Even if it does, though, it doesn't really matter. The point here is that the European economy is very weak.
And nobody should be surprised. The flow of capital through the banking system is pretty screwed up, which doesn't bode well for the private sector, where confidence is awful. And governments are competing to cut spending at a time when growth was already fragile. Here's what economists at economic consultancy Lombard Street Research had to say:
The outlook in the euro-zone is for an intensifying recession. Fiscal retrenchment will be a drag on domestic demand throughout the single currency into next year. Permanent fiscal squeeze is well established in the debt-ridden periphery, but will become an increasing influence in larger economies too.