It's tough to get a clear sense of how the Russian economy is faring in the face of Western sanctions. Unemployment remains at a record low. But economic output seems to be quickly losing steam. And in an ironic turn of events, the sanctions aimed at some of the economic elites surrounding Putin are taking their toll on some of Russia's poorest residents: migrant workers.
Last week, Armenia reported that individual transfers from abroad (also known as remittances) continued to decline in August, falling 5.8% from the prior year. (Transfers from Russia—the source of 80% of the private transfers to Armenia—fell 7.7%. )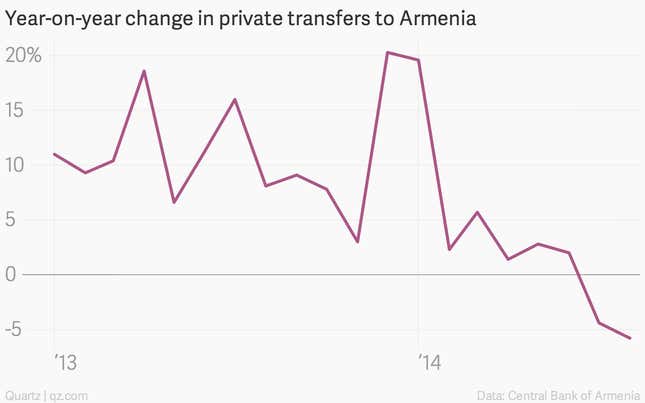 This is no small thing for Armenians. Such transfers account for roughly 12% of household income in the country, according to Moody's.  And the impact is being felt around the region from Uzbekistan to Moldova, where similar dynamics are in play. The situation could be particularly perilous for Tajikstan, which the World Bank reckons is the world's most dependent economy on remittance flows from workers in foreign countries. In 2013, such transfers—most of which come from Russia—amounted to roughly 47% of GDP.
.