The numbers: Good. Morgan Stanley said today it earned $1.7 billion in the third quarter, up 89% from the same period a year earlier. Revenue rose 12% to $8.9 billion.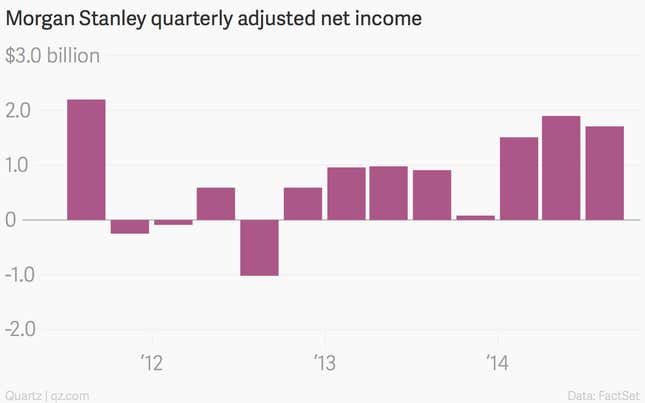 The takeaway: Another impressive quarter for Morgan Stanley in all three main areas of its business. Revenue from wealth management rose 8.6% from a year earlier to $3.8 billion. Trading revenues rose 8% to $2.4 billion. Sales at investment banking, which includes advising companies on mergers, acquisitions and initial public offerings, climbed 34%, to $1.6 billion.
What's interesting: Morgan Stanley, which has pulled back from fixed-income trading, derives twice as much of its trading revenues from buying and selling stocks as opposed to corporate bonds. Revenues from trading fixed income and commodities rose 19.4%, to $997 million, while the take from equities trading totaled $1.8 billon, up 6% from a year ago.
By contrast, trading of fixed-income securities contributed 55% of trading revenue at Goldman Sachs in the latest quarter. JPMorgan Chase earned more than twice as much revenue from trading bonds as it did from trading stocks. At Citigroup, make that four times as much.