In summer 2008, Ed Morse, then the chief energy economist at Lehman Brothers, was the object of relentless jibes for an unconventional call—oil prices, at the time fetching $140 a barrel and more, would plunge to $93. The forecast diverged sharply from Goldman Sachs' Arjun Murti, who at 39 was a Wall Street hero with his famed prediction of an oil "superspike." Murti had just doubled down with a forecast for $200 a barrel.
Morse was out of touch, it was said. But then, oil prices plummeted, bottoming out at just under $34 a barrel that December. Morse was back in accustomed territory, taking his spot as one of the canniest prognosticators of perhaps the trickiest commodity of all.
So it is again. As oil prices have averaged above $100 a barrel and more for three consecutive years starting in 2011, and until two weeks ago appeared headed that way in 2014, the 72-year-old Morse, now at Citi, has issued client note after client note about a new age of abundance that would send oil prices plunging once more. According to Morse, $90 will no longer be a floor to prices, but a ceiling.
Wall Street rivals said privately that, this time, Morse had definitely lost his bearings. But he persisted in predicting that—led by the boom on the US oil patch—prices would range from $75 to $90 a barrel by the end of the decade (pdf, p. 55), and then remain in that range for years.
If recent price moves more or less hold, Morse will be proven right again. Oil fell through $100 a barrel in early September, and on Oct. 10 plunged below the $90 psychological barrier. It crossed below $84 on Oct. 16,  rebounded a bit the following day, and this morning was trading down 31 cents in Europe, at $85.83.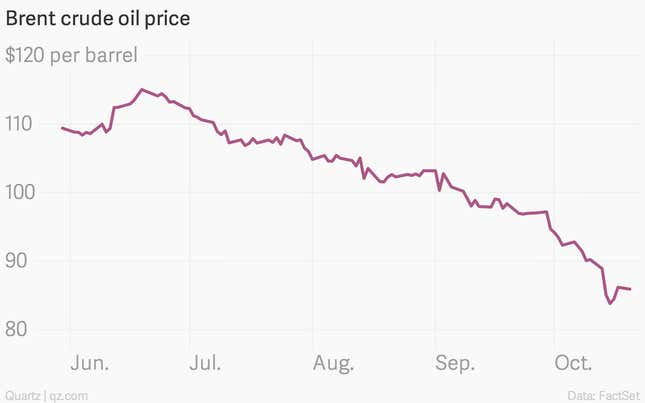 Some Wall Street banks say that oil is experiencing a temporary correction and that prices will roar back above $100 a barrel before the end of the year. But the majority of voices is now on Morse's side (although nobody appears to be, even begrudgingly, publicly giving him his due).
Contacted by Quartz, Morse dismisses any impulse to crow. "Am I feeling schadenfreude? Yes, I am," he said.
But he is right and wrong about geopolitics
The oil-price plunge is a result of a perfect storm—the surge of US shale oil, an unexpected plummet in demand, including from China, and a newly blasé attitude toward upheaval in the Middle East and west Africa.
In that flurry of notes to clients starting in 2012, Morse made some geopolitical forecasts based on the outlook for lower prices. For starters, he said that there were hard times ahead for OPEC. The cartel "should find it challenging to survive another 60 years, let alone another decade," he wrote, a prophesy that seems well within the cartel's current trajectory.
But on Moscow, Morse seems a ways off. Lower oil prices would likely "drive Russia into a more accommodating position with Europe," he wrote. The invasion of Ukraine was on no one's radar prior to last summer, before the price plunge, but even since then Russian president Vladimir Putin has seemed the opposite of repentant.
Time will tell—if low prices persist for a year or more, Morse could yet end up correct on Putin. But as of now, his main grounds for boasting have still been decidedly bold.