HONG KONG—Student activists and government representatives met for the first time since mass protests broke out across Hong Kong more than three weeks ago. After a weekend of violent clashes between police and protesters, over 2,000 police were called to man three protest sites where the talks were broadcast live and watched by thousands of protesters.
The meeting, which began at 6pm local time, lasted for two hours, featuring statements from both sides as well as a remarkably civil debate, given the tensions between the two sides. The government side was led by chief secretary Carrie Lam, Hong Kong's second-in-command; the students were represented by Alex Chow, secretary-general of the Hong Kong Federation of Students (HKFS).
Student leaders came across as poised and forcefully confident, accusing pro-establishment representatives across the table from them, who are all decades older, of being cowards. "We are very angry. We are enraged," Lester Shum of HKFS said calmly, before explaining that citizens were fighting for their fundamental rights. "I hope the officials have the courage to… rectify all the mistakes they made" he said.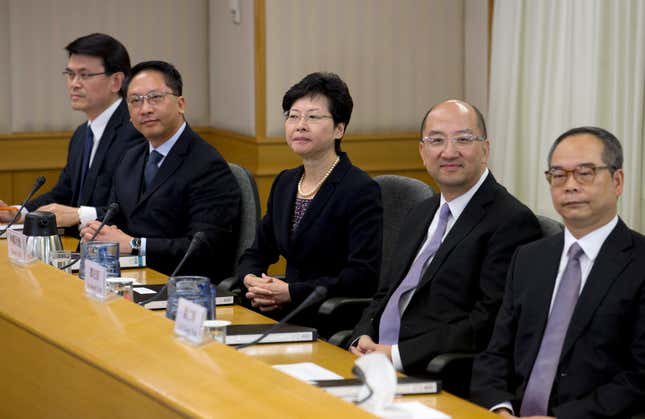 Hong Kong's government seemed to admit they are relatively powerless. Beijing is fully aware of the "divergent views in Hong Kong" on the issue of universal suffrage, Lam, the chief secretary, said. "We created many opportunities for the officials in charge to listen to that view directly," she said.
Still, in light of the "social campaign with massive scale and far reaching implications," the Hong Kong government is willing to submit a second report to central Chinese government, she said. The new report would reflect the "strong views, movements and campaigns" going on in Hong Kong, Lam said, but would have no official impact on 2017 elections, based on a five-step process Hong Kong has adopted to elect a chief executive.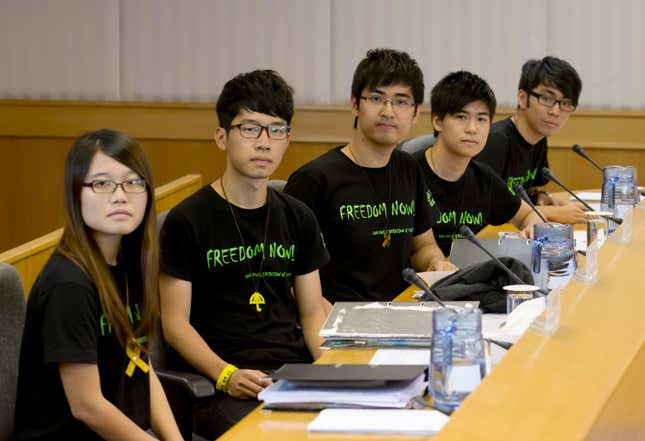 After 2017, "depending on the situation in Hong Kong," the government can officially suggest changes for 2022. Lam also suggested the government may set up a new "platform" to record public sentiments on elections and the democratic process.
The protests, now known as the "umbrella movement," are in response to Beijing's August decision on how the semi-autonomous Chinese territory will implement long anticipated political reform of universal suffrage, via direct elections in 2017, but also a complex combination of residents' frustrations over growing Chinese influence in the city, shrinking economic opportunities, and skyrocketing property prices.
Over the weekend almost 70 people were injured during altercations with police in the late evening and early morning. Chief executive CY Leung hinted that China's central government may be forced to intervene—raising the specter of Beijing's bloody crackdown on pro-democracy protesters in 1989. Hong Kong's highest court ordered protesters to leave the main site in Admiralty earlier today.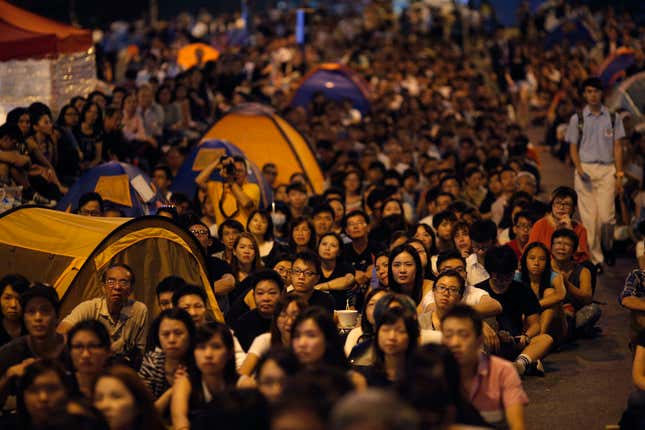 A crowd in the thousands sprawled across the main protest site in Admiralty, glued to the talks being shown on big screens. The throng stretched several city blocks—a mixture of students, people in suits, and gray-haired citizens who brought their own stools. The animated crowd applauded and booed at different speakers' remarks.
With his closing statement, Shum, the student representative, drew big cheers from the Admiralty audience:
We are the generation chosen by the times. You are the politicians picked by the times. Will you show leadership and be brave enough to take forward the democratic process, or will you go down in history as the ones that deprived Hong Kong of democracy? The decision is up to you.
For her part, chief secretary Lam concluded that "we can not have ideals only, we have to have regard for reality." Hong Kong remains part of China and the central government in Beijing has constitutional authority, she said. Still, she said she hoped there would be more "exchanges" going forward.
Then Lam asked for students' help in bringing Hong Kong out of "this impasse" by helping clear protests.
This is highly unlikely. Hours after the talks ended, student leaders pledged to continue their occupation of major Hong Kong roads. "They want us to give up… It is not what we want and we will continue to stay. Talks today had no concrete response or direction. We will continue to stay here," Yvonne Leung, one of the student representatives at the talks, told cheering protesters in Admiralty.
According to a survey last week by local newspaper Ming Pao Daily (link in Chinese), 75% of protesters polled said their acts of civil disobedience should be "upgraded" by means of expanding to new locations or vowing to extend the occupation that has paralyzed parts of one of Asia's largest financial centers for weeks.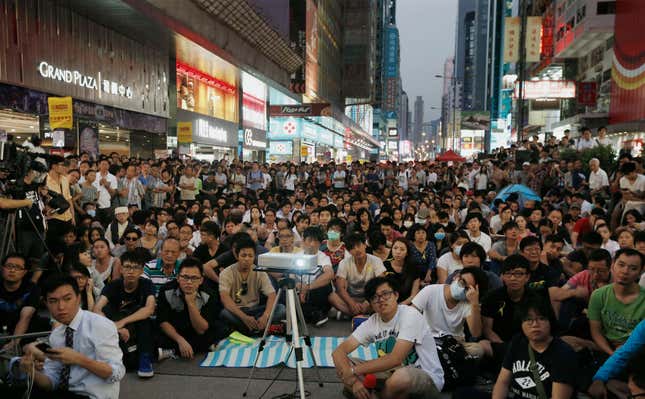 "We are peaceful and that is our strength, but it just restricts us from doing more," Ryan Chan, 21, told Quartz.
Asked what she thinks of the talks, Jasmine Cheung, a 22-year-old who works in marketing and watched a broadcast of the talks outside the legislative building said, simply, "bullshit." The government representatives are dodging the students's questions and ignoring their requests, she said. "They are ignoring all the people sitting here. They are always saying we are not representative of the citizens voice. But we are really yelling for something that we want."
Abella Cheung, 22, a designer, watched the negotiations next to a tent near the legislative building. "They keep saying they need time to fix the system, and to wait, but I don't think they really want to fix it," she said.
"I know the hong Kong government, they won't give a good answer or solve any problems,"said Kaki Leung, a 33-year-old actress who watched the talks in Admiralty "I was not surprised."
"It's all the same bullshit, " said Sun Wu, 31, who didn't bother watching the broadcast and instead played music nearby to one of the protest sites.
But pro-democratic legislators, who hold most of the geographically elected seats, but still have a minority in Hong Kong's legislature, said even the fact that talks were being held showed how much students had achieved. "I couldn't imagine" senior government leaders sitting down to a televised meeting with pan-democrats, Charles Mok, a legislator, told Quartz.
Short of asking Beijing to reject its decision on universal suffrage, there's little the Hong Kong government can do to make protesters happy, Mok said. "Even if the students want to take it and the leaders want to take it, the people down there won't take it," he said, pointing in the direction of the protests outside his office.