Microsoft pitches its Surface Pro 3 as "the tablet that can replace your laptop." But it seems that people aren't craving such a device.
The company said today that Surface revenue passed $900 million last quarter, driven by the new Surface Pro 3, which launched this summer. That's impressive growth—roughly 130%—over the same period last year. But it still suggests relatively slow adoption.
The Surface Pro 3 starts at $800 and goes up to almost $2,000. So even assuming that most devices are at the low end of that range, that still suggests 1 million or fewer devices shipped during the quarter. For comparison, Apple's iPad business, which itself is being scrutinized for growing too slowly, passed $2 billion in its launch quarter, representing 3 million shipments. Last quarter, Apple moved 12.3 million iPads, generating $5.3 billion in revenue. The broader PC industry, meanwhile, was flat, around 80 million units.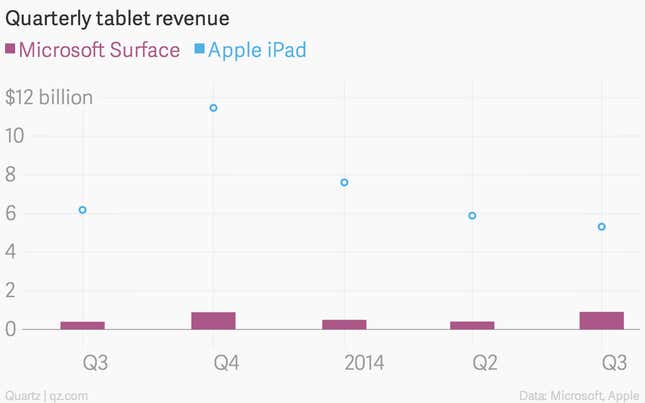 To be sure, it is still early in the "post-PC" revolution. The iPad certainly hasn't taken over the software world yet, either. And Microsoft's corporate customers can be excused for moving more slowly than the consumers who tend to buy Apple products.
For Microsoft, it's easy to see why the Surface is still a hopeful investment: If successful, it keeps Windows relevant in an era where most "computers" run either Google's Android or Apple's iOS. And it moves Microsoft from an OS-licensing business into one where it can capture more revenue from hardware, software, and services.
Perhaps it's worth giving the Surface a few more iterations. Maybe new CEO Satya Nadella has ideas that need time to materialize. But, like Microsoft's Windows Phone OS, the Surface isn't doing much yet to drive Microsoft's mobile-era comeback.