Alibaba founder Jack Ma and Apple CEO Tim Cook are making noises about teaming up to tackle China's multitrillion-dollar financial payments sector. But any combination of the two tech giants could put them on dangerous ground with the Chinese government, which has been fighting to protect the turf of its state-owned payment giant, and is already cracking down on both companies.
Ma announced at a Wall Street Journal conference last night that he would be "very interested" in partnering with Apple's newly launched Apple Pay platform. "We're going to talk about getting married later this week," Cook replied, offering high praise for an Alibaba team that was "wicked smart."
The appeal of China's e-payments sector is obvious for both companies—online third-party payments there are expected to total 23 trillion yuan ($3.8 trillion) this year, a 35% increase from 2013. While growth is slowing slightly, the industry is still expected to expand by more than 25% a year until 2017, according to iResearch: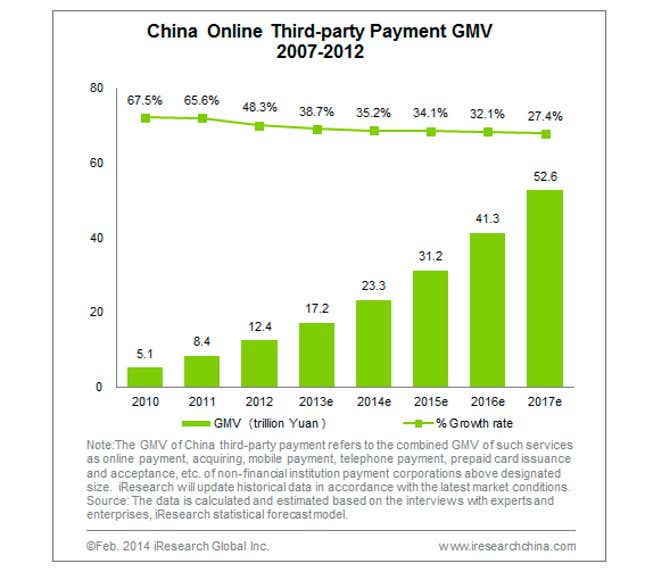 And the industry is changing quickly. Competition from tech companies like Alibaba and Tencent is hurting UnionPay Mechant Services (UMS), the online payment arm of the state-run monopoly China UnionPay, which lets China's major banks make and receive payments—sort of like a giant Visa, MasterCard, and Amex rolled into one. UMS currently has a 40% market share, and Alibaba is second with more than 21%, iResearch says.
While mobile payments make up just 13% of third-party payments, they're growing fast, and Alipay dominates, as this iResearch data shows, which measures "gross merchandise volume" or the total sales value: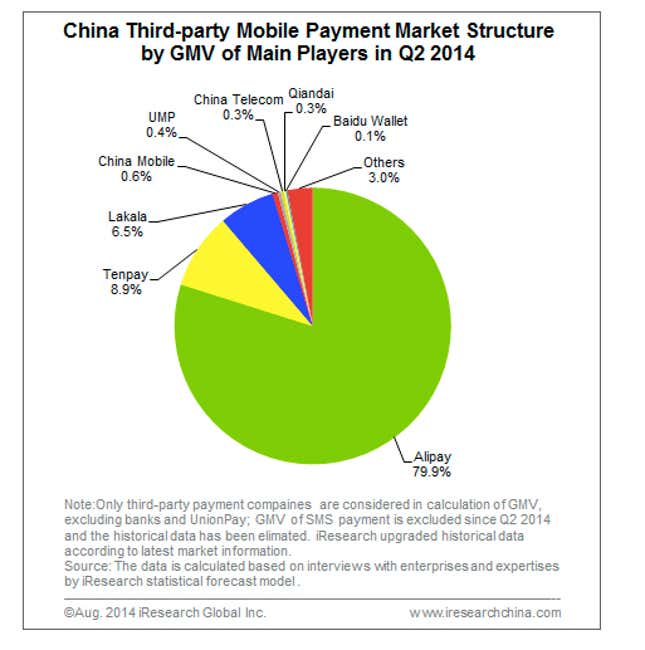 Alipay's growth is being closely watched. Earlier this year, China's central bank banned the use of "QR" codes and barcode scans to make payments—exactly the system that many of Alipay's 100 million mobile payment customers rely on. Some analysts suspect the ban was put in place to stop UMS from losing transaction revenue. China's central bank has also floated the idea of capping the amount consumers can spend using Alipay.
Apple has its own problems with the government, including a suspected government-backed hacking attack on iCloud users and a Beijing-imposed delay of the iPhone 6 launch. The company was also forced to deactivate Apple Pay on the iPhone6, despite a preliminary deal with China UnionPay. "UnionPay and Apple are still working out details," Caixin reported last week, citing a long-standing industry dispute over what mobile phone payment technology should be used in China.
In other words, both Apple and Alipay are facing significant hurdles of the Chinese government's making.
How any partnership between the two companies would work is anyone's guess. But combined, they could potentially unite Alipay's fast-growing payment system with China's estimated 100 million iPhone users, who also happen to be some of its wealthiest and most sophisticated consumers—a union that is unlikely to receive Beijing's blessing.