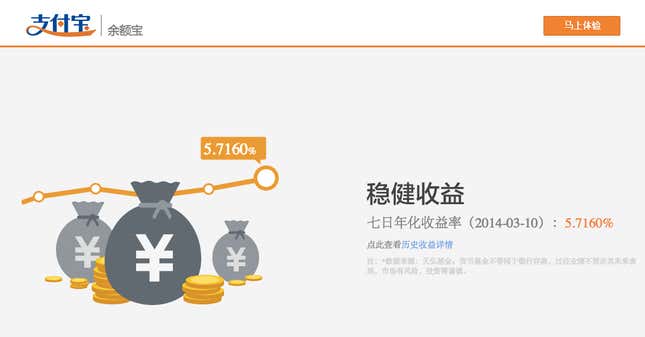 In the filing that Alibaba Group made with US regulators today, the Chinese e-commerce company reveals that draft regulations (p.23-4) the People's Bank of China is currently considering could greatly reduce the size of individual transactions made via Alibaba's payment platform, Alipay.
The rules the PBOC is considering would cap the amount that a buyer could spend on Alipay at 5,000 yuan ($804) for a single transaction or 10,000 yuan ($1,609) in aggregate purchases per month. The rules, if implemented, would also limit transfers of money using Alipay to 1,000 yuan per transaction and 10,000 yuan in aggregate per year, the company said.
That's a big deal. Given that we know now that 78.6% of Alibaba's gross merchandise volume—worth about $519 billion—goes through Alipay, which is similar to PayPal except that it holds the buyer's payment in escrow until the transaction is complete.
What's this all about? Last June, Alibaba launched a money-market fund called Yu'e Bao, through which Alipay users could invest excess balances in a high-yielding wealth management product. Yu'e Bao has proven wildly popular—it's now the fourth-biggest money-market fund in the world, with some $87 billion invested. Given that the government lets banks offer only a little more than 3% a year interest on savings deposits, investing via Alipay in Yu'e Bao, which yields 5% to 8%, is a no-brainer. But that means Yu'e Bao has begun threatening Chinese banks, which are already desperate for deposits.
The part about limiting "transfers" of money likely refers to those investments. And in that, it's not all that surprising; the PBOC has been threatening to clip Yu'e Bao's wings in various ways. For instance, just this week, a publication backed by the central bank implied that Alibaba should be holding capital reserves in case funds invested in Yu'e Bao go bad (paywall). And as we reported, in March, officials halted the use of virtual credit cards offered by Tencent and Alibaba.
If the PBOC caps the amount customers could spend on a single transaction, well, here's just one example of what would suddenly disappear from Taobao. (This doesn't mean customers would have no payment options for big-ticket items at all; they could still pay for purchases through online bank transfers and credit cards, though that would require more mutual trust between buyer and seller.)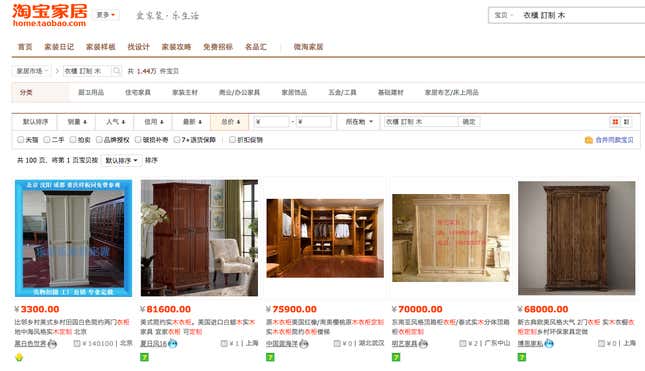 Of course, the draft regulations might not be enacted. But they highlight just how much power Chinese regulators have over the company's business potential, especially considering that Alibaba appears to be focusing on growth within China's borders for now.