A new music video from rock band OK Go is a dazzler: One long camera take shows the four band members lip-synching their song "I Won't Let You Down" while smoothly gliding around on motorized unicycles. They're joined by more than 2,000 precision-trained Japanese dancers with umbrellas—some of them also riding the unicycles—for a Busby Berkeley-scale dance routine, before the camera itself (which we realize is a drone) soars high into the sky.
This scarcely does the video justice, so just go watch it if you haven't seen it already—we'll wait. It's awesome.
The not-so-secret star of the show is a "personal mobility device" called the Uni-Cub, made by Honda, which sponsored the music video. The Uni-Cub turns out not to be a unicycle, technically speaking—it's a battery-powered self-stabilizing vehicle with a number of interlocking wheels that allows for travel at 6 kph (3 mph) in just about any direction.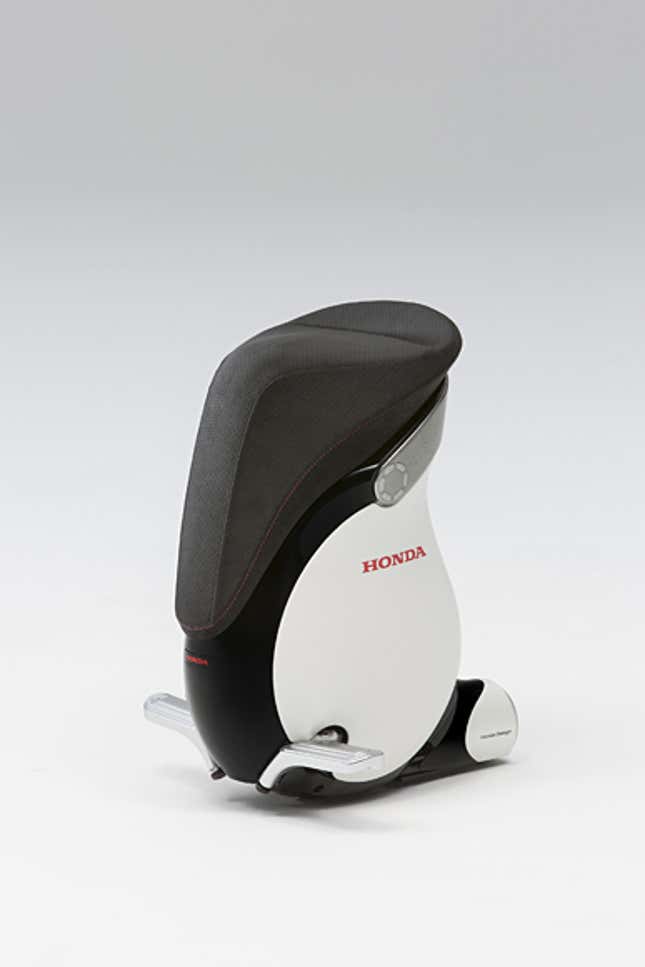 "The keyword is a pedestrian. People are riding on the Uni-Cub but are still able to act like pedestrians," Shinichiro Kobashi, chief engineer of the Smart Mobility Development Division at Honda R&D, said in an interview earlier this year with the Japan Times.
So is Honda preparing us for a future where humanity will scoot around on self-propelled office chairs, forever banishing the tedious chore of walking? (Or, more insidiously, turn us all into the slothfully obese humans of Wall-E?) Not quite.
Setting aside its sci-fi pedigree and synchronized-dancing potential, the Uni-Cub is designed with much more mundane tasks in mind—for museum tour guides, airport workers, and anyone who is paid to do a lot of pacing in "barrier-free indoor environments." But the Uni-Cub and devices like it may eventually have an even more valuable role to play in rapidly aging societies like Japan: Keeping people mobile as they get older.
Shut up and take my money!
The first thing to know about the Uni-Cub (technically the Uni-Cub β, for the latest iteration of the device) is that you can't buy one. Although many dozens of them appeared in the OK Go video, and have been deployed at industry trade shows and Japan's national science museum, Honda has announced no specific plans to make the Uni-Cub commercial available.
What if I'm a giant corporation?
You still probably won't be able to buy one—only rent it. Honda says it is currently trying to "verify the business feasibility by offering the UNI-CUB β for a variety of uses by other businesses and organizations through a fee-based leasing program."
Does the Uni-Cub come in my size?
It's one size fits most, and is designed for people who are at least 155 cm (5 ft) tall and who who weigh less than 100 kg (220 lb)—so perhaps that will put any fears of a WALL-E-style obesity epidemic to rest. An early version the of the Uni-Cub is shown in an Honda promotional video as its rider cruises through a non-descript office—like using a self-propelled Aeron chair:
What about, ahem, the Segway?
Yes, with its futuristic aura and self-stabilizing gyroscopes, the Uni-Cub does uncomfortably echo the Segway, the first mass-market personal electric vehicle that was wildly overhyped ahead of its launch, but is now mostly associated with mall cops and tourists. (Also, G.O.B from "Arrested Development.")
Honda takes pains to note the differences between the Uni-Cub and the Segway—particularly the fact that Uni-Cub users can blend into a crowd without peering down at people.
"If you compare [the Uni-Cub] to a pushbike or a Segway, it's much more friendly to being in crowded environments," Honda spokeswoman Vikki Hood told the BBC. "Those things are a bit antisocial, but the Uni-Cub works in harmony with the environment and people around it."
Unlike the Segway, the Uni-Cub steers without the use of handlebars—just lean in any direction and off you go. "That might be how the UNI-CUB β works out what to do, but in reality, it felt as if it was mind-reading my intentions," said a reviewer for Gizmag. "It's the nearest thing to a natural machine brain interface I've ever encountered."
Would my grandparents really ride one of these?
Well, not yet. The Uni-Cub relies on balance for steering—it uses some of the same motion-control technologies as Honda's ASIMO robot—and so older people with balance problems might find it difficult to use. But the company clearly has the elderly in mind, especially since Japan is aging more quickly than any other developed economy, and is pursuing a host of high-tech solutions, including robot caretakers.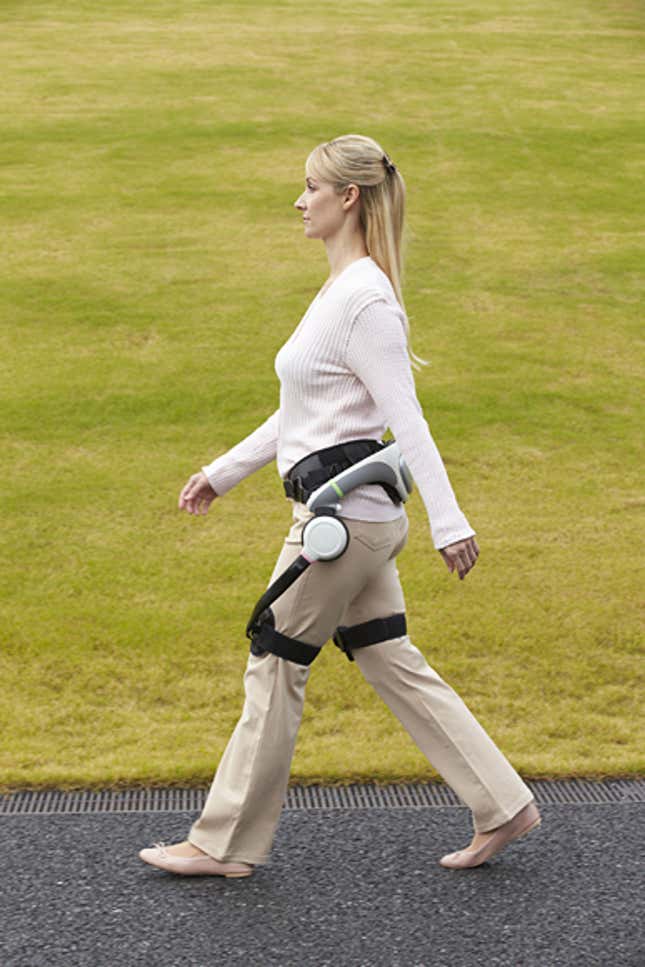 "We want to keep refining the device so that elderly people can use it as easily as possible," an anonymous Honda official involved in Uni-Cub testing told the Japanese newspaper Asahi Shimbun. The official added that the Uni-Cub "is suited for seniors with weak knees and legs because they can move forward, backward and make full turns while seated on the device."
Honda did not respond to a request for comment when asked specifically about its plans to adapt the Uni-Cub for the elderly. But the company clearly sees elderly mobility devices as a growth market: the same R&D lab that gave birth to the Uni-Cub is also developing a "Walking Assist Device," which is like an exoskeleton to help people whose legs muscles have been weakened by a stroke or disease. Clinical trials are already underway at hospitals in the US and Japan.