This item has been corrected. 
Sometimes, the best innovation isn't an app.
South Africans Thato Kgatlhanye and Rea Ngwane are co-founders of the business Rethaka. Their brand of Repurposed Schoolbags are made from recycled and reinforced plastic shopping bags. Many of the recipients come from poor families.
But it's so much more than a bag. Because the kids often live in shacks and remote areas with no electricity, Repurposed Schoolbags are built with some other smart features. On the outside of the flap is a pocket for a solar panel, which charges on the long walk to and from school. That screws onto a Consol glass jar that the kids use as a lamp at home when doing homework in the evenings.  The bag is also reflective because many of these kids wake up at the crack of dawn and walk in the dark to get to school on time.
Aesthetics were also important, says Kgatlhanye, who is in charge of branding and marketing.  "We spent a long time on the design, asking ourselves what kind of bag we would be proud to be seen carrying." They did not want to be like those people, she says, who give away blankets they would never sleep in themselves.
The bags are colorful, and their attention to detail is evident. "The mesh at the bottom of the bag is made out of cut-offs we used to throw away, until one employee (who works at the factory, where they employ eight workers) came up with an idea of how we could use them. That adds an extra pop to the bag. These children also want to look cool," says Kgatlhanye.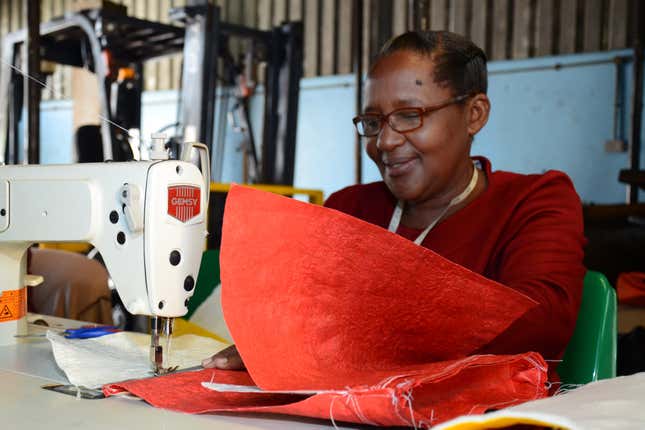 Kgatlhanye and Ngwane, the operational and financial manager, have become the talk of the town themselves since they launched the bags this year. They are 21 and 22, fresh out of university, where Ngwane was pursuing an undergraduate degree in marketing management and Kgatlhanye brand management. By the time they enrolled into university they had already co-founded Rethaka in 2011 and were using their assignments as test cases for viable business ideas they could take on.
"We had a lot of ideas, but we did not feel excited until we worked on the school bags," said Kgatlhanye. The idea fit their ideal of building a business "guided by purpose, with community at the heart of our business".
In October last year they took third place (and R300, 000—about $27,000) when they entered the bags in the SAB (South African Breweries) Foundation innovation Award. They used that money to set up a factory and buy sewing equipment in January 2014. By July, they had a prototype and launched by giving away 128 bags.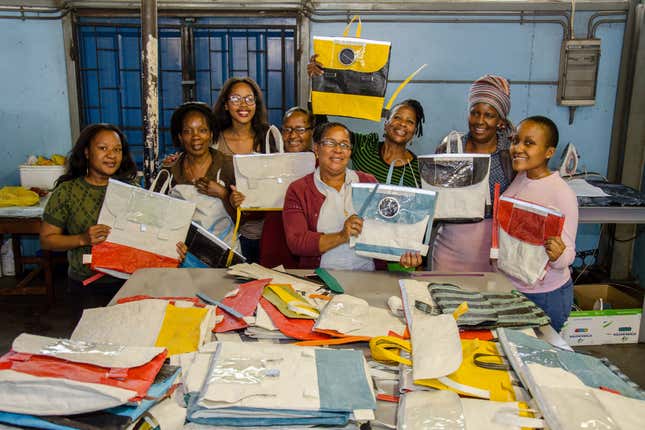 Those bags were self-funded, but this is a for-profit business. The bags sell for R250 (about $23) each, but they sell in bulk to a "giving partner," corporations who help sponsor needy schools. Rethaka is responsible for matching the businesses with the right school, helped by the country's education department. Sponsors include Red Bull, SAB Foundation, and Standard Bank.
Standard Bank, one of South Africa's largest banks, is also the first partner to buy a new type of bag they are making; a padded laptop bags with business branding to be used at conferences and as corporate gifts.
The founders plans to expand with the backpack business, but maybe even open a hotel.
Correction: A previous version of this post incorrectly stated that all of the recipients are poor.