The next big moment for e-commerce in China, already the world's second largest market for online shopping, is expected to happen on mobile phones. China already has 857 million mobile internet users, who are increasingly spending more money on their phones—but they aren't typical middle-class Chinese shoppers.
China's mobile internet users are overwhelmingly from smaller, poorer cities, with lower levels of education as well as income, according to a new white paper from digital consultancy China Internet Watch.
Online shopping via smartphones, or "m-commerce," currently accounts for about 42% of mobile internet usage in the country—more than games or value added services. And almost half of Chinese mobile internet users are in second- and third-tier cities, whose residents make up the bulk of the Chinese population. Only 13.1% of mobile internet users are in first-tier cities like Beijing or Shanghai.

Almost a quarter of  Chinese mobile internet users make less than 1,000 yuan ($163) a month: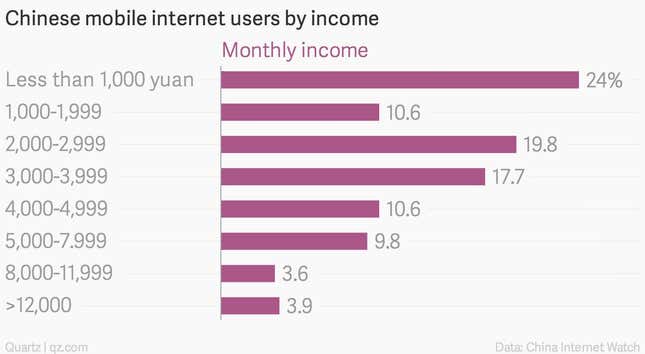 The battle for dominance of China's e-commerce revolution has long been waged in poorer, inland cities where households have grown marginally wealthier but have limited shopping options. But the demographics of China's mobile internet mean that the country's internet giants, from Alibaba to Tencent to Baidu, have to wage a different kind of battle.