Streaming music has been everywhere in the news lately.  YouTube, the internet's biggest streaming platform of any kind, is about to launch a genuine, paid music service; Apple sounds interested in reviving Beats, and Taylor Swift withdrew her entire catalog from Spotify, setting off an international media frenzy and widespread debate about the future of the music business.
Almost completely absent from this discussion has been Pandora Media, which operates the biggest standalone internet music service in the US.
But its turn is coming.
Royal headache
There's a power struggle underway in Washington over the future of the digital music business. To say that Pandora has a lot riding on it would be a huge understatement.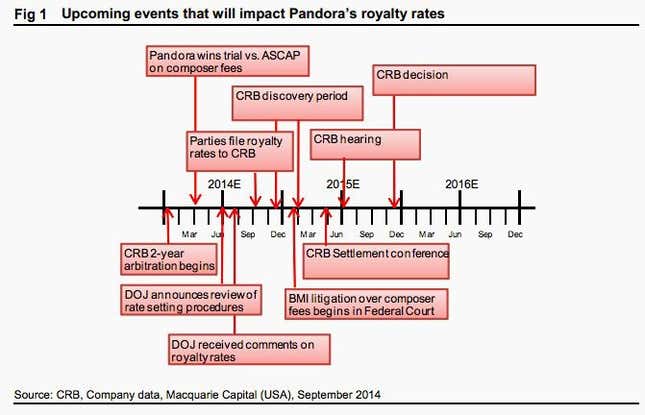 Even though it already spends more than half its revenue on content, there is a perception in the music industry that Pandora (valued at about $4 billion and on track to generate nearly $1 billion of revenue this year) pays too little in royalties to publishers, songwriters, record labels, and performers. In 2015, this could change.
Following a bitter dispute earlier this year between Pandora and the oldest licensing organization in the US, the Department of Justice is reviewing the system that, since the 1940s has governed royalties paid to publishing corporations and songwriters. A decision is expected within weeks.
If publishers get their way, Pandora no longer will be able to buy blanket licenses to vast swaths of music, like radio stations do, at prices set by the courts. Instead, like its cousins in "on-demand" streaming music (such as Spotify and Beats) it would have to strike deals with content owners directly—which probably means paying more for the rights to stream songs.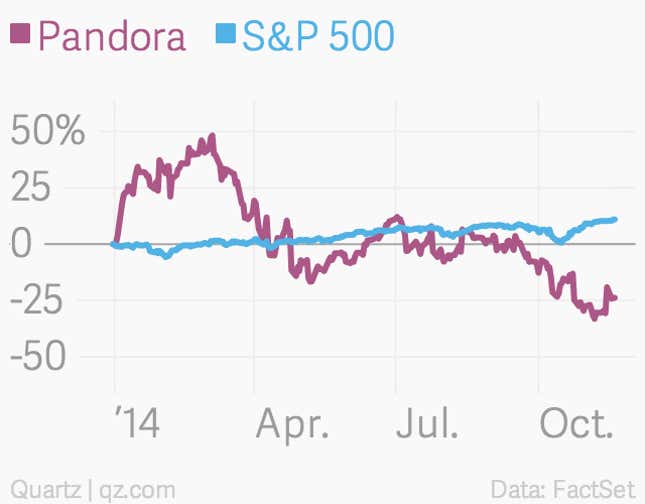 Meanwhile, another government body, the Copyright Review Board, will next year set royalty rates covering internet radio services from 2016 to 2020.  SoundExchange, which collects royalties for record labels, proposed a roughly 25% increase in the official rate. Pandora proposes it pay significantly less, but last time around, the CRB sided with the labels.
The process won't be finalized until the end of 2015, which means uncertainty for Pandora's investors will likely persist for some time. "That's the nature of the music industry," says one music business executive close to the process. "It's not an industry that is used to finding win-win solutions, it tends to be one side wins, and the other side loses spectacularly."
For what it's worth, Piper Jaffray analyst James Marsh argues that the CRB will only "modestly hike the royalty rate.". He thinks a recent deal between Pandora and an agency that represents indie record labels should help it argue that rates should not rise too sharply.
But with the pressure building, Pandora's stock is down nearly 30% for 2014, and has now underperformed the broader market since its mid-2011 IPO.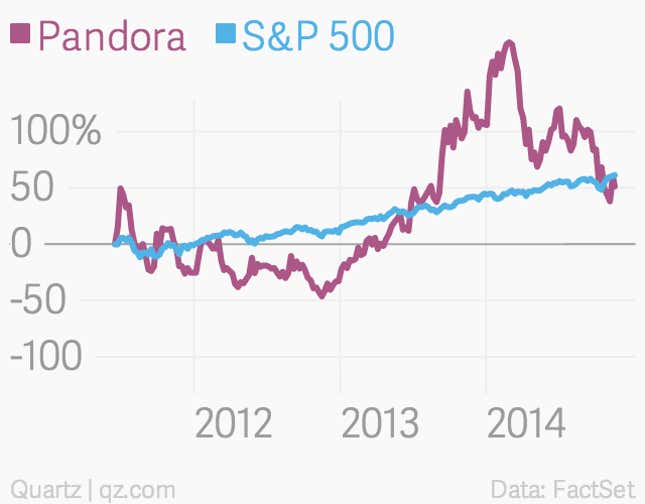 In need of a friend?
Macquarie Securities analyst Amy Yong thinks the royalty situation in 2015 could ignite a fresh wave of M&A across the music industry. Yet rather than linking up with a technology giant (Apple, Google, and Amazon already have launched their streaming platforms and presumably are done with acquisitions for now), she thinks Pandora could end up partnering with an old-fashioned radio broadcaster. Doing so would have cost advantages, since Pandora operates with a royalty framework similar to that of the radio business.
But if Pandora can't thrive (or even just survive) on its own, then maybe nobody in streaming music can. And that would be "bad for music overall," Casey Rae, an adjunct professor at Georgetown University and a policy spokesperson for the Future of Music Coalition, tells Quartz. It's not only listeners who would lose out, but artists and songwriters who are counting on streaming as a promising new revenue source. As Rae says, "You need to play this music, to get paid for it."