Few believe that the euro-zone economy is anything but weak, but the European Commission's latest forecast is still strikingly downbeat. Compared with its previous projections, the commission now expects weaker growth, lower inflation (in some cases, outright deflation), more persistent deficits, and a host of other ills that didn't seem as daunting not that long ago.
EU officials have consistently overestimated the euro zone's economic recovery, such as it is. GDP growth is expected to grow only 0.8% this year and 1.1% in 2015, both down sharply from the forecast made at the same time last year, itself weaker than the year before: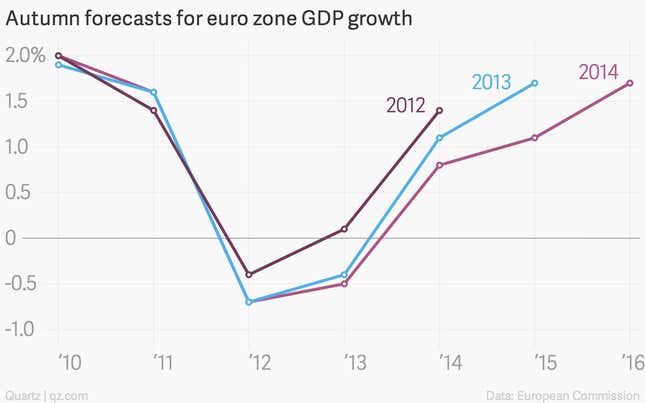 The revision to the inflation outlook has been even more drastic, with prices rising by only 0.5% this year and 0.8% in 2015, a far cry from the wishful thinking of officials in previous years: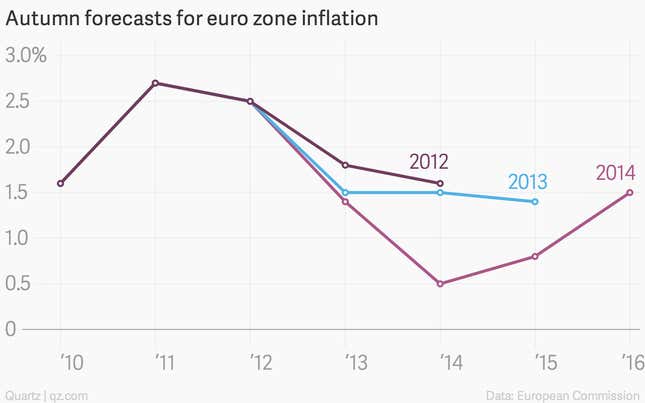 As we have covered before, you don't need to read the entire 192-page forecast report to get the gist of how things are going in the European economy. Each country gets its own chapter in the report, including a pithy title that summarizes the situation in just a few words—France, for example, faces "Weak growth, low inflation and a rising deficit" while in Germany the story is "Disappointing growth but improvement in sight."
The broader economic picture in the continent as a whole gets the same treatment, and by scanning the headlines from the past five years' worth of reports below you can sense the frustration of officials trying to describe a recovery that never arrives. How many times can you describe something as "gradual" before it's better to admit that another "G" word—glacial—might be more appropriate?
Autumn 2014: Slow recovery with very low inflation
Spring 2014: Growth becoming broader-based
Winter 2014: Recovery gaining ground
Autumn 2013: Gradual recovery, external risks
Spring 2013: Adjustment continues
Winter 2013: Gradually overcoming headwinds
Autumn 2012: Sailing through rough waters
Spring 2012: Towards a slow recovery
Autumn 2011: A recovery in distress
Spring 2011: European recovery maintains momentum amid new risks
Autumn 2010: A gradual and uneven recovery
Spring 2010: A gradual recovery