More good news on US housing today, suggesting that one of the few bright spots in the global economy—the healing trend in US residential real estate—remains intact.
Existing home sales jumped a better than expected 2.1% in October, reaching a seasonally adjusted annualized rate of 4.79 million. Here's a look. (Today's data is the bar at the far right of the chart.)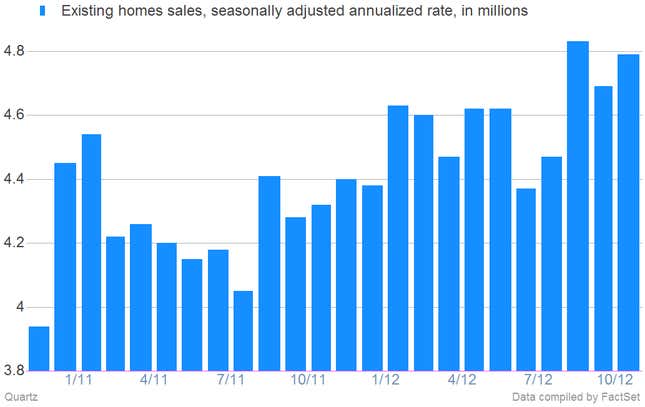 Over a longer timeframe things also look good, JP Morgan economists wrote in a client note:
Sales at the national level increased 31% saar [seasonally adjusted annual rate] over the latest three months and 7% over the latest six. And other parts of the existing home sales report also look consistent with improvement in the housing market. Even though sales shifted away from the Northeast (where houses are usually expensive), the median sale price—which does not control for changes in the sale mix—increased 11.1% [over year ago] in October. And inventories of existing homes available for sale remain lean.
Elsewhere, somewhat squishier survey data on sentiment among home building companies continues to improve. The broad index published by the National Association of Home Builders and Wells Fargo increased six points to 46 in November. While this measure has been improving for over a year, it remains below 50, meaning that more builders regard conditions as unfavorable than favorable. Still the overall picture is one of growing strength in the economic juggernaut that is US housing, a trend that has to be respected by all economy watchers. Especially since the macroeconomic data is also being reflected by corporations. For instance, today home improvement retailer Lowe's posted better-than-expected earning results that drove the stock up by the most in more than three years.