Not having a dishwasher on Thanksgiving might sound like a "first-world problem," but it's actually a state of kitchen existence that a lot of people around the world are choosing.
Like cocaine usage or pet dog ownership, the market for automatic dishwashers in countries tells us something about the global economy as well as the quirks of different middle classes. In 2012, an estimated 19.7 million dishwashers will be sold, shy of 2007 levels by about half a million units, according to a July report by the research firm Euromonitor. That's because the financial crisis gave dishwasher sales a boost in 2007 as worried consumers in the US and Europe dined at home more. Sales haven't recovered in part because as consumer confidence improved after the worst of the crisis had passed, people began eating out again, the survey says. North America and Western Europe make up the bulk of global sales of dishwashers.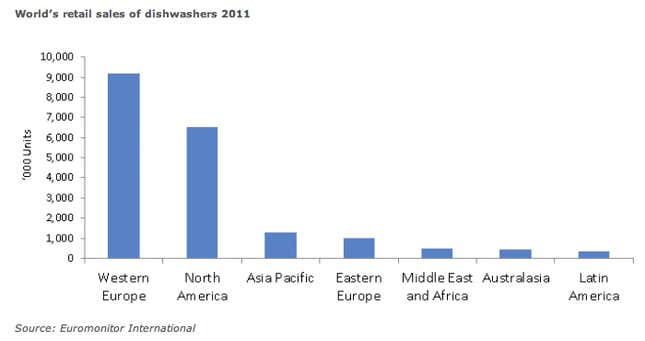 Poor dishwasher sales are part of a larger trend of slow growth for the household appliance sector. In an October note, ratings agency Standard and Poor's forecast that most manufacturers should see low, single-digit growth for 2012-2013 as demand would likely stay low in Western Europe and flat in the US.
As the US and some Western European inch toward or pass the point of "saturation," where 75% of households own dishwashers, dishwasher-related retailers target other markets both in developed and emerging economies. But not enough consumers are keen on converting from hand-washing dishes just yet. Euromonitor estimates that the growth of the dishwasher market will decline to 2% a year for the next half-decade, down from an average growth of 6% over the past five years.
Their lack of usage has perplexed appliance makers and marketers for a while now. A 2004 Washington Post article said some immigrants in the US ignored the thing entirely—or used it to store snacks or as a drying rack. One Chinese-American man asked: "Do you have to wash it beforehand to rinse it off? And if you wash it beforehand, why do you even need to use it?"
So why are people resistant to the dishwasher? They are still seen as a luxury and not a necessity in countries like the United Kingdom where only one in three households own the appliance. British detergent maker Reckitt Benckiser and appliance maker Electrolux have launched a "Stop washing up" campaign that tries to cast dishwashers as a needed hygienic measure.
Habit and lifestyle are other factors. In India, less than 1% of households own dishwashers mostly because families wealthy enough to afford the appliance just pay maids to do the dishes by hand. In Hong Kong, Taiwan, and Japan small kitchen space and a strong culture of eating out are reasons why the rate is also low. One in 10 homes in Hong Kong have a dishwasher, Euromonitor data show. The BRIC countries are also not hot on automatic dishwashing, and would rather spend on washing machines, televisions, or mobile phones. In 2010, Brazil, Russia, India and China together accounted for 42% of sales of laundry appliances but only 2% of unit sales of dishwashers.
Where have dishwashers sold well? Wealthy Norway, with high per capita purchasing power of €32,037 ($41,161), according to a survey by GfK, one of the youngest populations in Europe, and a culture of eating in is something of a dream market for dishwashers. There 80% of households in cities and 75% in rural areas own dishwashers. Turkey is a promising market with room for growth. About 30% of households in the country own the appliance. In urban areas the figure is 40%, a high number given that over half of the country's population live in cities. Eastern Europe with its high consumer confidence and expanding housing market also has potential.
These are hard times for dishwashers, especially when the washing machine is being lauded as household appliance no. 1 for civilization. Global health and statistics guru Hans Rosling says we should thank the industrial revolution for the invention of the washing machine, which gave people time and freedom to do other things like read. The economist Ha-Joon Chang argues in his book, 23 Things They Don't Tell You About Capitalism, that the washing machine was more revolutionary than the internet. The dishwasher isn't all that different, but don't expect a TED talk on it anytime soon.