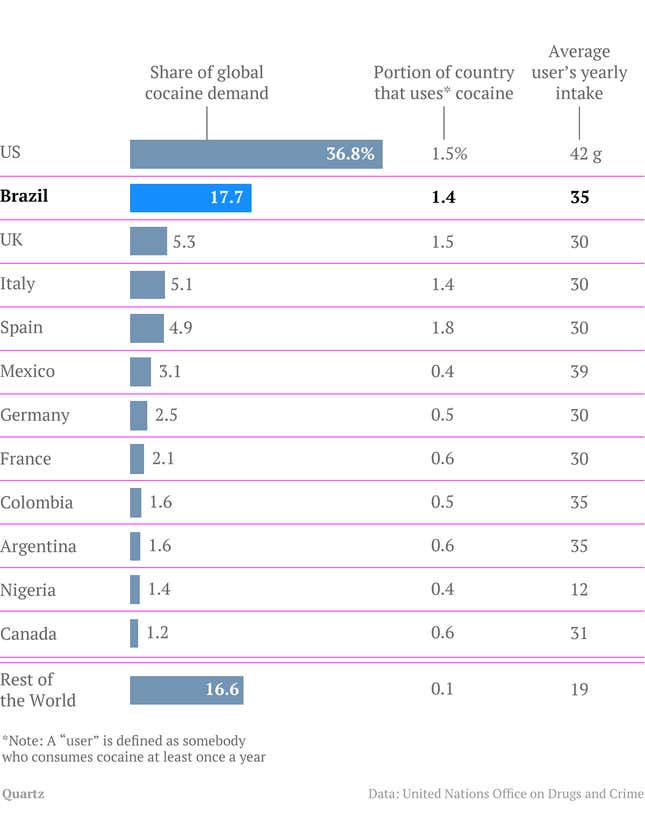 Brazil's growing middle class has poured money into the trappings of wealth and recreation: flat-screen TVs, get-away vacations, and, now, lots of cocaine.
The country today consumes 18% of the world's yearly supply of the drug, with 2.8 million Brazilians, or 1.4% of the population, snorting or smoking a combined 92,000 kilograms in 2010, according to estimates provided to us by the United Nations Office on Drugs and Crime.
Brazil's coke explosion has been called "the most worrying side-effect of the country's recent consumer boom," with use spreading not only across slums, dubbed "Cracolândias," but also among the swelling middle class, who now comprise more than half of the population. Tax breaks and steep interest rate cuts have kept consumer confidence high and fueled continued retail spending, despite warnings of a broader economic slowdown.
"Drugs follow money," Ronaldo Laranjeira, coordinator of the Brazilian institute's study, told local media this month. "The countries that consume most drugs are the ones that have the most money." Yet while Brazilian consumers may today have more disposable income to spend, the country has not yet invested extensively in addiction treatment.
A report from Brazil's National Institute of Science and Technology for Public Alcohol and Drug Policy put the country's consumption even higher than the UN, with 2.6 million users. It called Brazil the world's top crack market and the second biggest destination for powdered cocaine.
Four in five Brazilian users preferred more expensive cocaine powder over crack and its local variant "oxi," although use of that cheap, smokeable form of the drug – cooked with gasoline, battery fluid or other chemicals – has continued to spread from Amazon outposts into poor urban areas.
Most of the world's cocaine originates in Brazil's Andean neighbors, Bolivia, Peru and Colombia, which produce but don't consume as much of the drug, according the UN. It's then smuggled through the Amazon to Brazil's wealthier southeastern cities, which as a region account for nearly half of Brazilian consumption. More then travels east to Africa and north from there to European markets, where a quarter of the global supply is consumed.