Time Warner, the media giant behind HBO, CNN, the Warner Bros. film studios and various other media brands, reported its quarterly results this morning, and they looked pretty good. In fact, Bernstein Research analyst Todd Juenger told clients in a note that the result was "The textbook definition of a solid report." Every division reported stronger-than-expected revenue and operating income, and the company raised its profit forecast for 2014.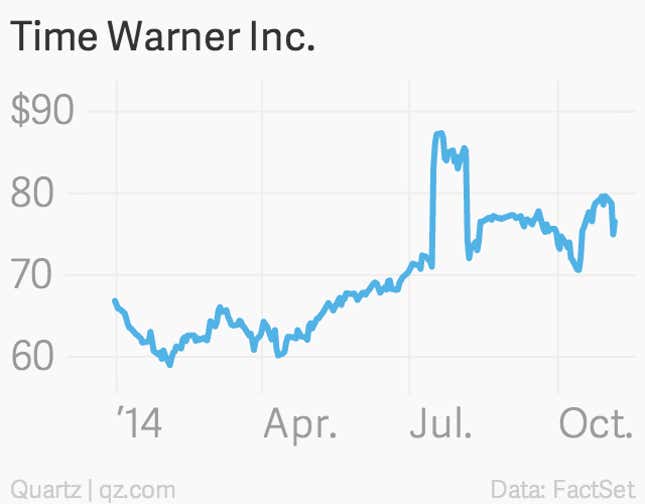 The premium cable channel HBO is the crown jewel in the media conglomerate's portfolio, and is going to play an increasingly prominent role in its strategy going forward. Last month Time Warner outlined plans to finally start selling subscribers its HBO Go streaming service on a standalone basis, without a cable subscription (a plan that has been described as "HBO Go It Alone").  Details about pricing and how the service will actually work remain to be seen. But on the company's earnings call, HBO CEO Richard Plepler shed some further light on his strategy to target the "70 million homes that do not get HBO."
And it is clear from his comments (if it wasn't already) that far from breaking up with the big pay TV companies that exclusively distribute the premium channel at the moment, HBO and big cable (and satellite/telecom) will stay in bed together for years to come. Here's Plepler on the standalone streaming venture:
So to us this is just net upside everywhere, margin upside everywhere. I talked to all of our distributors about it. We want to lean in with them early in the new year and begin working on the plans for this for 2015, and I see nothing but upside for us, nothing but upside for the consumer, and nothing but upside for the distributors.
Last month, the Wall Street Journal reported (paywall) that Comcast, the biggest cable company in the US, was blindsided by Time Warner's HBO Go announcement. An executive warned that HBO risks cannibalizing its existing business. Responding to those comments, Plepler said:
HBO and Comcast have been terrific partners… So we're going to work very closely with them on our current business, we're going to look—work very closely with them, growing it not only in their current video business but also on the broadband-only and Internet-plus side.
It is not clear whether HBO's standalone streaming service will be distributed through the same cable companies—which after all provide most Americans with their broadband internet.
At any rate, the positive market reaction to the results (shares are up 2.7% today) is good news for Time Warner's CEO, Jeff Bewkes, who rejected an $80-billion bid from Rupert Murdoch's 21st Century Fox back in July and is under pressure to prove he can generate more value for shareholders as an independent business.
At the time, the Murdoch bid was worth about $85 per share. The stock remains well below those levels, but despite some recent hiccups (probably related to a general market seizure) it is headed in the right direction.