The recent share-price surge set off by the departure of former Microsoft CEO Steve Ballmer generated loads of value for Microsoft shareholders. In fact, since the end of 2012, Microsoft's market capitalization has risen by nearly $181 billion. The company recently climbed above $400 billion in market capitalization, putting it within striking distance of Exxon Mobil, which has been weighed down by the decline in global oil prices.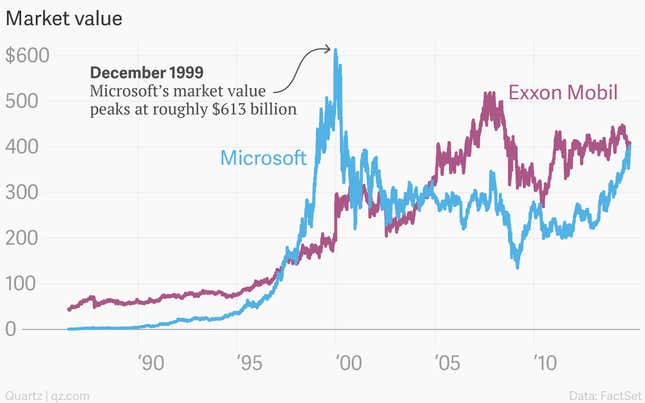 While Microsoft's long-standing competition with Apple might be better known, the software giant has also been part of a running battle with the oil behemoth since the dot-com boom of the late 1990s. That speculative mania for all things tech drove Microsoft's size (by market capitalization) to more than $600 billion in 1999, making it the world's largest company. (t over took General Electric at the top spot in 1998.
Of course, it didn't last. The the tech sector went through a bust, which was quickly followed by a global commodities boom which supercharged shares of Exxon throughout most of the 2000s, until the global financial crisis tipped them over the edge. Now, the global energy price decline is hampering Exxon Mobil, just as Microsoft is once again in ascendancy.
Of course, it's important to remember this isn't a fight for absolute bragging rights. Those clearly belong to Apple.