A new business school now sits atop Bloomberg Businessweek's biennial ranking of American MBA factories. Duke University's Fuqua School of Business leapt to the number one position on the list, up from sixth place in 2012.
It might be surprising to see a school jump several places to the top, but the rankings are actually very volatile. Yale skyrocketed into sixth place, all the way from 21st. Columbia also crept up several places and into the top 10. Here's how the rankings for the current top eight US schools have changed in just two years: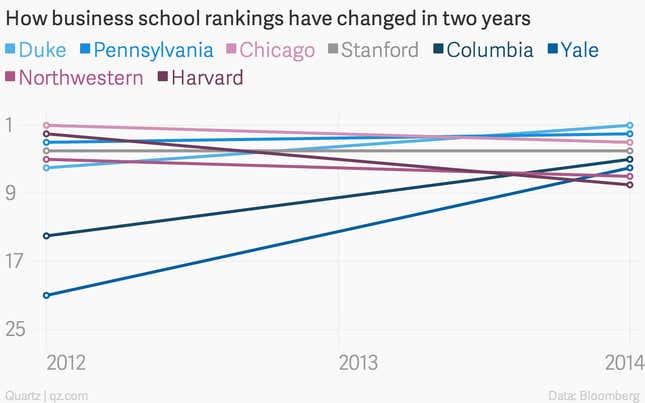 Bloomberg goes into some detail on how the rankings were generated. And employers do apparently value business-school rankings when choosing where to recruit. But doesn't it seem pretty arbitrary that, for example, a student who started at Harvard in 2012 and graduated two years later would find herself attending a school six spots less prestigious?
The Bloomberg rankings for the current top 15 have changed significantly in the past decade:
In contrast, the top five law schools have remained more or less the same on US News' rankings since 2009, only with University of Chicago and New York University occasionally trading the fifth spot.