HONG KONG—Some protesters in Hong Kong's Umbrella Movement are considering a new tactic in their crusade for democracy: An act of civil obedience.
The three co-founders of Occupy Central, one of the groups behind the civil disobedience movement that has overtaken Hong Kong for more than a month, are planning to turn themselves in to authorities, who may be planning clear protest sites by the end of this week.
It's not exactly clear what the leaders hope to achieve by turning themselves in. Organizers told the South China Morning Post that the act is meant to be a show of the protesters' willingness to accept the legal consequences of the protests that Hong Kong and Beijing officials, including president Xi Jinping, have deemed "illegal." But a willingness to be arrested, which is a cornerstone of civil disobedience, seems like it could just as easily be demonstrated by staying at the protest sites.
"Their thoughts are, firstly, to declare that this phase of the movement is coming to an end," Joseph Cheung, initiator of the Alliance for True Democracy, told VOA News. "They have felt pressure from the public, and there should be a plan for exiting. Secondly, of course, is to show their respect for the law and to show their willingness to take responsibility for this movement."
Some supporters of the movement think it is time to go. "They should surrender. It's over," said a 22-year-old protester who gave his name as just Alex O. Occupy Central co-founder Benny Tai was not immediately available for comment.
What is indisputable is that protesters in the increasingly splintered Umbrella Movement, now in its seventh week, are having trouble deciding what to do. Last month a referendum to vote on the next step in negotiations with the government was scrapped because organizers couldn't decide on the agenda. As the demonstrations have continued, the number of protesters has dwindled. "I think the aim has changed. It's just like having fun," said John Chan, 17, who says he has stopped attending the protests as much. Clashes have become more common. Yesterday, protesters wrestled with men who threw a bag of offal into the face of Hong Kong media magnate Jimmy Lai, a vocal supporter of the protests.
Occupy's plan, which has some supporters but not many, is one of several competing but unpopular options. A group of activists in the former British colony are planning to occupy the British consulate to protest what they see as the United Kingdom's lack of support during the protests. Students from the Hong Kong Federation of Students (HKFS), the group that has been negotiating with the government, are still considering taking their demands to Beijing. Alex Chow, secretary general of HKFS, said he would "rather be arrested than surrender." Others seem determined to continuing the occupation of three main Hong Kong sites for as long as necessary.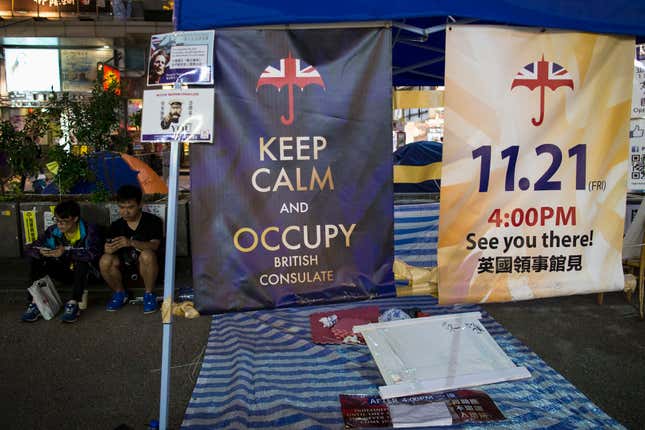 Hong Kong's top official, CY Leung is under pressure to resolve the protests for next week's launch of the Hong Kong-Shanghai stock connect, which will give foreign investors unprecedented access to the Shanghai stock market and allow mainland investors to buy Hong Kong stocks. The hailed trading platform meant to revive Hong Kong's sluggish stock market was delayed, Chinese state media and Leung suggested, because of the protests (paywall).
Some protesters doubt whether the clearance will actually happen—authorities know that using force in the past has only brought out more demonstrators. And even if the sites are cleared, some demonstrators feel that enough has been achieved. Seanix Yu, 21, a protester at the main site in Admiralty, said: "If the clearance starts and succeeds will it mean our fight will end the day that the police clear us? It's not the end, of course. Because what we've done here is already in people's minds."