When it comes to social media, Michael Kors is at the top of the fashion heap. The designer has 16 million fans on Facebook, and 2.4 million on Twitter (an interactive bunch). On Instagram—where he has 3.1 million fans—he just made moves to convert his "likes" to actual sales.
As of today, fans of the brand can sign up for a program called #InstaKors. Once registered, followers who click to like a photo carrying the #InstaKors hashtag on the designer's Instagram account will receive an email with a direct link to buy the featured products.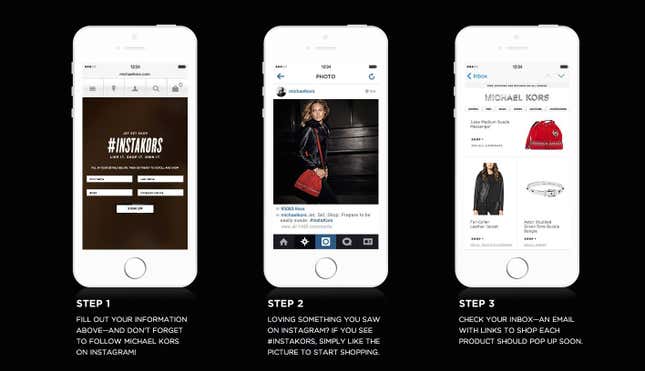 It's not exactly seamless, but on Instagram, which has resisted the addition of click-through links beyond users' bio pages, this process is as close as anything has come to a "buy" button.
The solution is identical to one Marc Jacobs Beauty launched earlier this month to sell cosmetics to the brand's Instagram followers, and similar to the service provided by LiketoKnow.it, which allows publishers and fashion bloggers to add fashion credits to their Instagram posts and send "likers" details to buy the products.
Kors' willingness to reach his fans where they are speaks to his widespread appeal and positioning as an "accessible luxury" brand that could threaten higher-end names such as Gucci and Louis Vuitton, especially in emerging markets.
While many luxury brands are still struggling to catch up in online sales—Bain estimates some 40 percent do not sell online—Kors is using apps such as Instagram to reach another healthily growing audience: mobile. McKinsey reports that more than half of luxury shoppers' searches are mobile, and a Kors representative told WWD that of all social media channels, Instagram shows the highest year-over-year growth and engagement.
Outside of Instagram, the new mobile app Spring attempts to create a similar photo stream that's entirely shoppable, made up exclusively of fashion brands. Michael Kors and Marc Jacobs aren't on Spring yet, but a "Coming Soon!" message appears when users search for the designers' names.