Today, Hong Kong authorities started clearing away part of the main protest site of the pro-democracy movement that has partially paralyzed the city for almost two months. Police and court bailiffs dismantled metal barricades and dragged away tents, in some cases helped by protesters who didn't resist.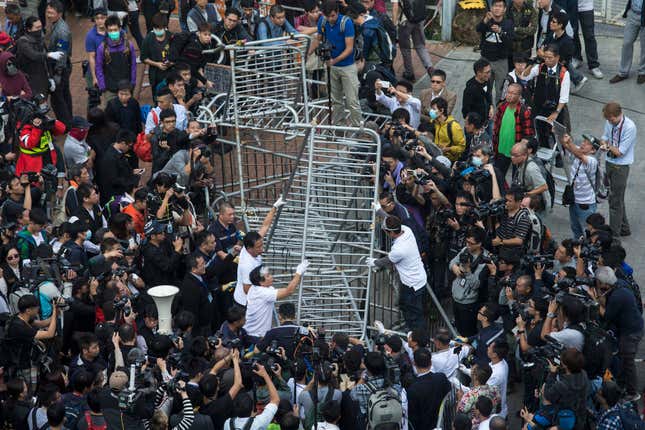 The protesters who have pledged to hold onto their three occupied streets in the Asian financial center say that this isn't the end. (Late in the evening, Hong Kong-time, hundreds of protesters began organizing a movement to surround government headquarters and have started to clash with police.)
If the past 30 years are any guide, they are right: large-scale demonstrations calling for democracy in Hong Kong have been erupting since at least the 1980s. If the recent protests end, another pro-democracy movement is likely to crop up again soon. Here is a look at the ones that have cropped up so far:
A democracy movement is born
After years of breakneck economic growth, Hong Kong's pro-democracy movement began in earnest when more than 1,000 protesters converged on a theater in the Hong Kong neighborhood of Hung Hom in November 1986, calling for direct elections starting in 1988 for the city's legislature. Eventually, in 1991, Hong Kong introduced 18 directly elected seats to the legislature.
In 1988, a group of 50 activists held a 24-hour hunger strike outside of the Chinese state media office of Xinhua in Hong Kong to protest a draft proposal of the Basic Law, the city's mini-constitution, that postponed direct elections of the chief executive until 2012. (That date has now been pushed back to 2017, under a reform proposal that protesters are currently railing against.)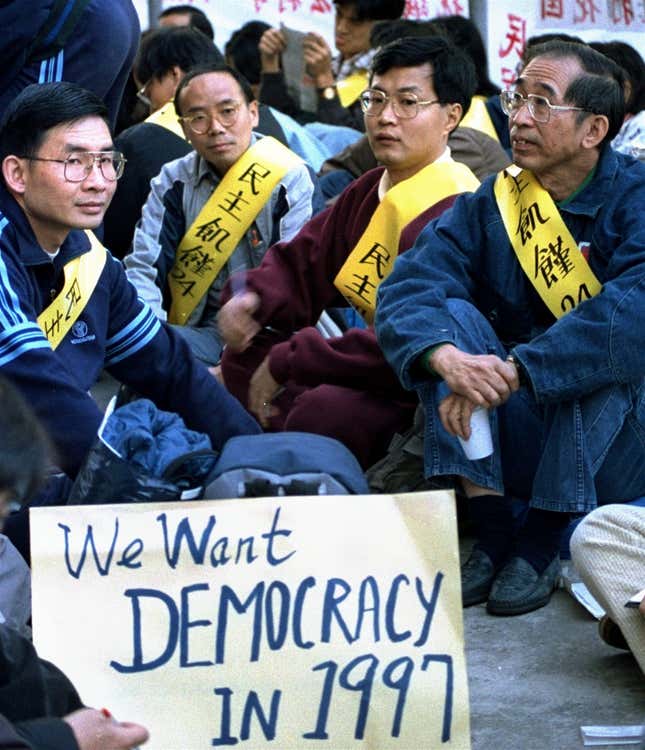 Promises made
After Hong Kong's Basic Law was promulgated in 1990, stipulating that the city's "ultimate aim" is the election of the chief executive by universal suffrage, pro-democracy lawmakers and demonstrators protested a decision to replace the city's partially elected legislature with one appointed by Beijing in the spring of 1996. In the fall, protesters rallied again outside of Hong Kong's convention center as a committee of 400 people, chosen by Beijing, selected candidates for the city's top office of chief executive. A group of pro-democracy politicians took a petition of 60,000 signatures calling for democracy to Beijing but were prevented from getting off their plane.
This is similar to what happened this past weekend, on Nov. 15, when student protesters attempted to take demands for universal suffrage to Beijing but were prevented from boarding the plane because Chinese authorities had canceled their travel documents.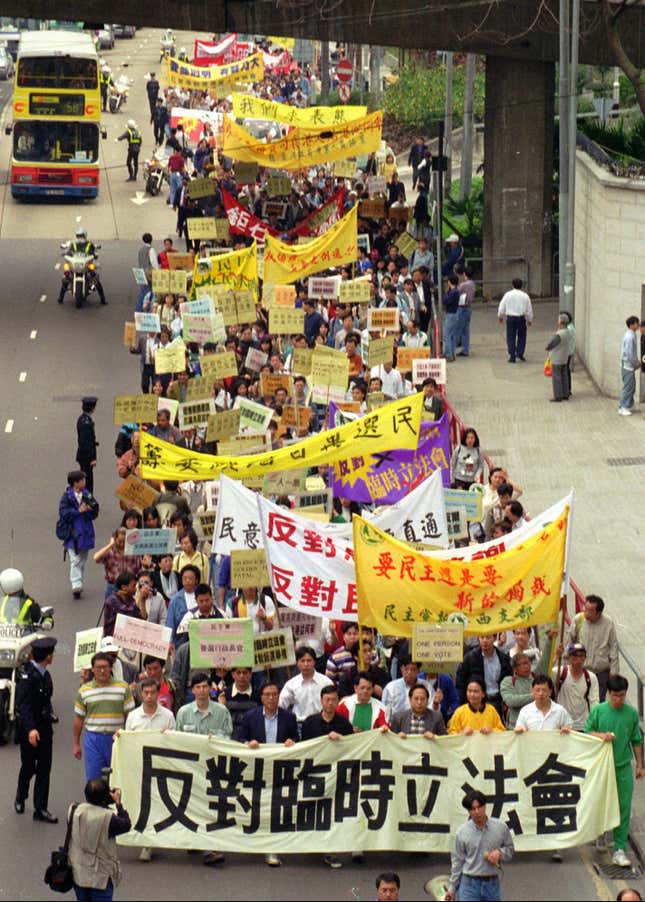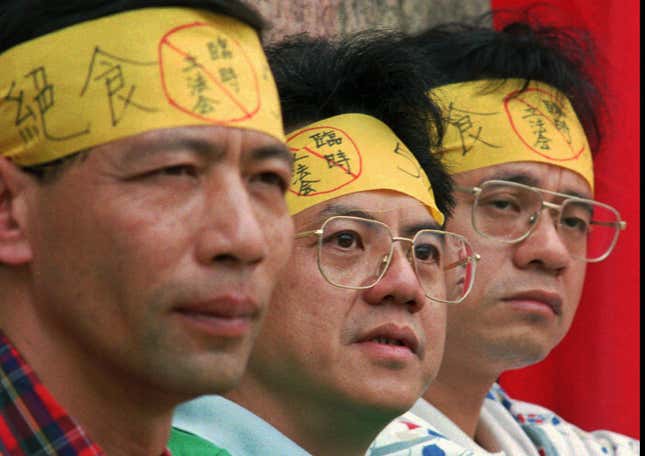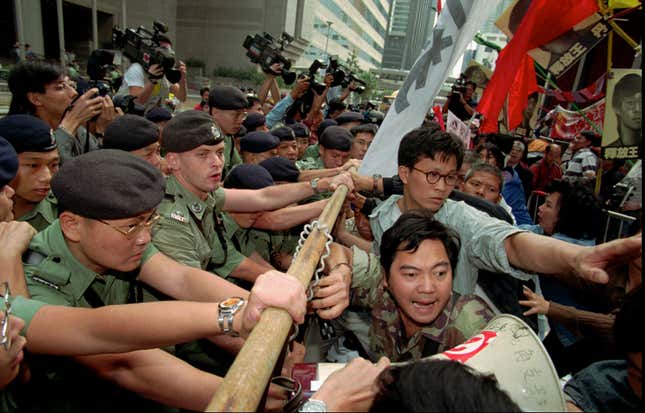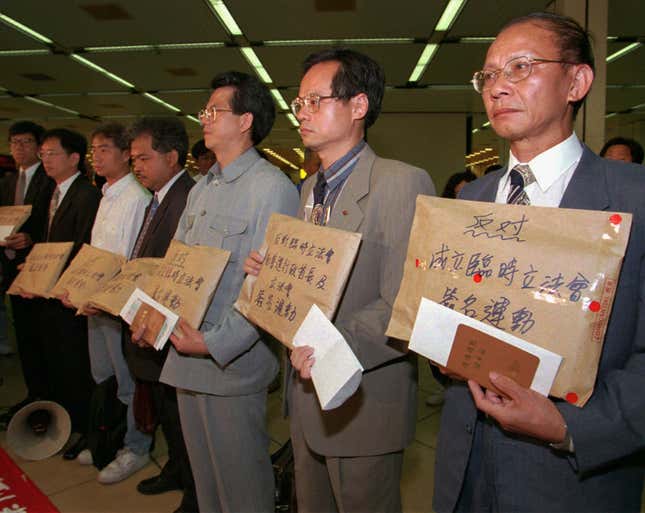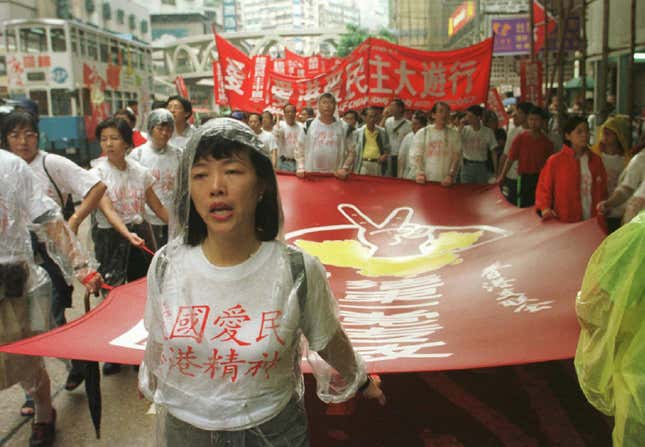 The 2000s
Hong Kong saw a series of large protests between 2003 and 2005. In 2003, Hongkongers took to the streets in protest of Article 23—a set of Patriot Act-like security and anti-subversion laws—that the Beijing-backed chief executive, C.H. Tung, tried to push through. Tung eventually withdrew Act 23 from his political agenda. In April 2004, Beijing announced that it had ruled out direct elections for both the chief executive and the legislature when both offices were set to change, in 2007 and 2008, respectively. Then, on July 1, 2004, as many as 450,000 protesters marked the six-year anniversary of Hong Kong's handover to China to demand universal suffrage. Protests continued into 2005.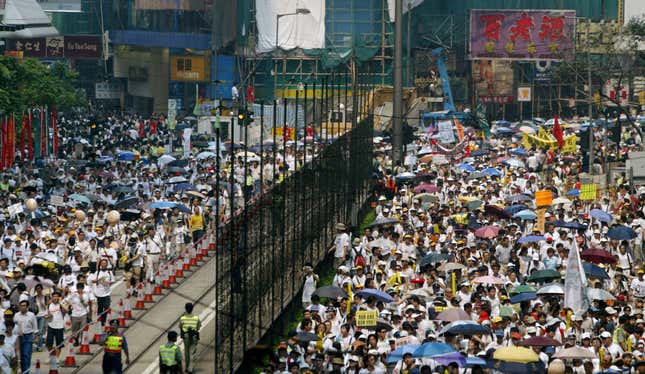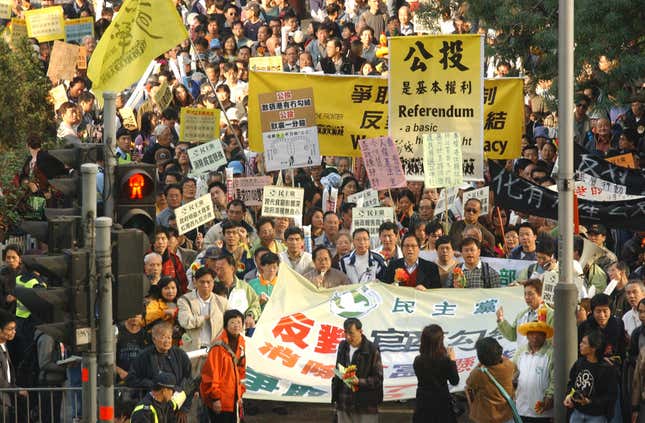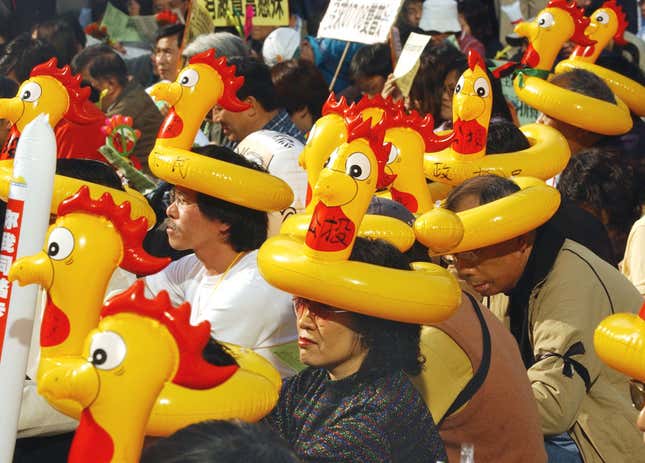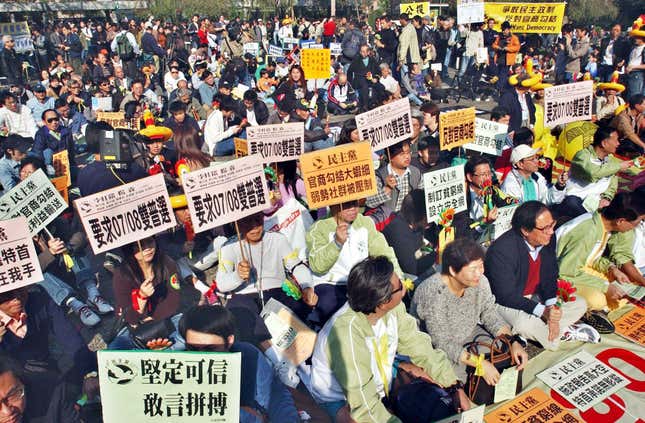 Protesters calling for direct elections in 2012 used what would become the symbol of today's protests—a yellow umbrella—to form the numbers "2012." That year, students, teachers, and parents rallied against the introduction of a "moral and national education" plan that critics said amounted to brainwashing. A group of secondary students mobilized, forming Scholarism, led by student leader Joshua Wong, and continues to organize student activists today.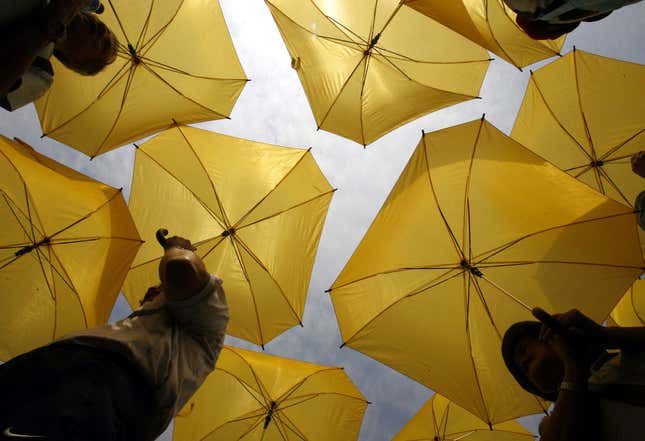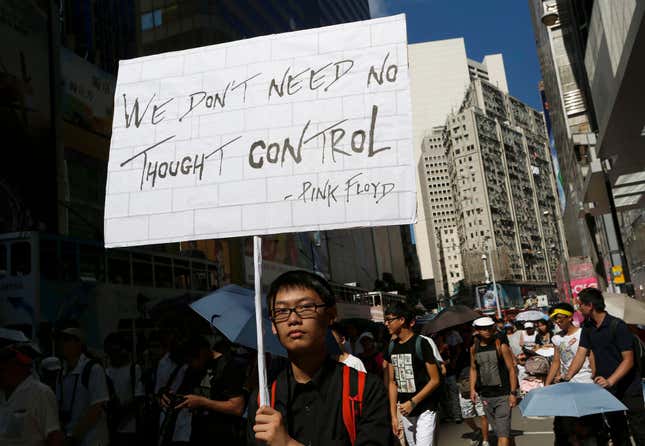 In 2014
In late September, students stormed government headquarters to protest Beijing's decision that only candidates approved by a nominating committee traditionally sympathetic to Beijing could run for Hong Kong's top office. Mass arrests of the students prompted other protesters to come out. Then those people were tear-gassed by police, galvanizing yet more demonstrators in what quickly became known as the Umbrella Movement.