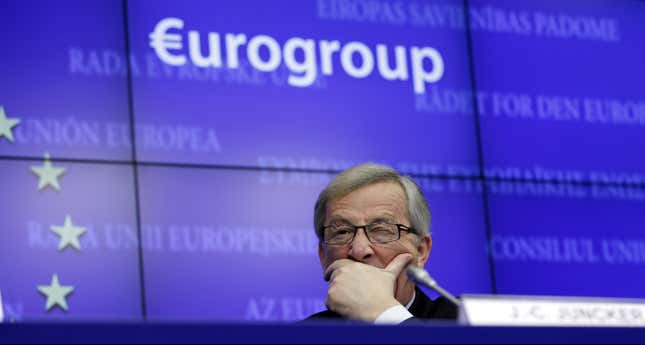 Greek leaders have been jumping through hoops for weeks to meet international lenders' demands, but now it's Europe's leaders who can't get it together to agree on the country's debt deal. Nearly 12 hours of talks into this morning by euro zone finance ministers, leaders of the International Monetary Fund and the European Central Bank failed to produce a consensus on how to resolve Greece's debt problem. The failure to reach an accord means emergency aid to the soon-to-be broke country can't be released.
Jean-Claude Juncker, president of the Euro Group, issued this statement:
The Eurogroup welcomed the staff-level agreement reached between the Troika and the Greek authorities on updated programme conditionality, including a wide range of far reaching measures in the areas of fiscal consolidation, structural reforms, privatisation and financial sector stabilisation.

The Eurogroup noted with satisfaction that all prior actions required ahead of this meeting have been met in a satisfactory manner. This reflects a wide ranging set of reforms, as well as the budget for 2013 and an ambitious medium term fiscal strategy for 2013-16. These efforts demonstrate the authorities' strong commitment to the adjustment programme.

The Eurogroup commended the considerable efforts made by the Greek authorities and citizens to reach this stage.

Against this background, the Eurogroup has had an extensive discussion and made progress in identifying a consistent package of credible initiatives aimed at making a further substantial contribution to the sustainability of Greek government debt.
The Eurogroup interrupted its meeting to allow for further technical work on some elements of this package. The Eurogroup will reconvene on Monday, 26 November.
The delay means that up to €44 billion ($56 billion) in bailout aid will remain on hold until agreement is reached. In the meantime, the Greek government is running out of cash and soon won't be able to cover basic needs.
The Euro Group blamed technical difficulties for the delay and insisted there were no major political rifts, despite multiple reports that finance ministers are at odds with the IMF, and with each other, over how to make Greece's debt sustainable.
The prolonged failure by leaders to resolve the Greek problem raises questions about their ability to solve the larger euro crisis at all. Some observers worry it's a matter of not trying hard enough. Last night's failure to carry on until a resolution was reached "displayed a lack of willpower," said UBS economist Paul Donovan.
Giving up after just 11 hours of talks is hardly statesmanlike. Where are the European summits of yesteryear that would run for 72 hours straight before politicians emerged bleary-eyed and incoherent with caffeine? One gets the impression that the euro area is not really trying.