Sushi-makers around the world are increasingly dependent on farmed fish, because the ocean's wild stocks are so depleted. Conscientious consumers are increasingly aware of this, but aside from compulsively checking Seafood Watch lists to stay up to date on what menu items are ocean-friendly or not, some worry there's little to do other than stop eating fish altogether.
Sushi-lovers in the US now have another option. A new, San Francisco-based organization called Two Fish says it will start shipping fresh cuts of raw ahi tuna caught off the California coast to patrons around the country before Christmas. Two Fish has launched with funding from a successful Kickstarter campaign (336 backers ended up pledging $38,599, more than double the project's $15,000 goal) and will operate as a nonprofit with support from the Cisco Foundation and Thrive Networks.
Anyone who orders sashimi from Two Fish ought to have a clear conscience, the Kickstarter page says, based on knowledge that the supply chain starts with "artisanal, family fishermen" using hooks and lines (which means no nasty bycatch) to catch fish that are "in season," and ends with zero waste. Each package of flash-frozen, vacuum-sealed sashimi comes with information about the fish it came from, the boat that caught it, and how to best prepare it. (If you're inclined to fret about the carbon costs of packaging and shipping, consider that this fish was caught by a small boat while your local grocer's fish may very well have been harvested by a Hummer of the sea.)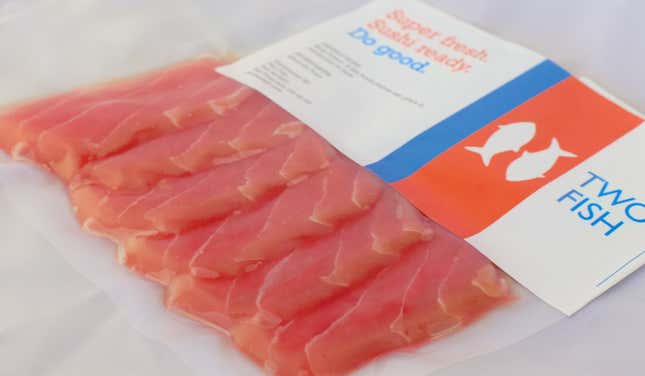 Two Fish promises that by handling processing and shipping on its own, it can make sure every piece of every fish gets used; trimmings and leftovers will be sent to Project Open Hand, which provides meals to seniors and people with critical illnesses.
Each package will cost between $8 and $10 and contain 3 oz. to 4 oz. of sashimi, says Martin Reed, the executive director of Two Fish—so named, partly, because he wanted to mimic the one-for-one model of Tom's Shoes: each time a customer buys fish for himself, some fish gets donated to the needy.
Reed also is the CEO of Blue Sea Labs, through which he started an e-commerce site for sustainable seafood, called I Love Blue Sea, in 2010. That platform was sold to Vital Choice, another online seafood retailer, in November of this year. According to Reed, the Cisco Foundation, which "is very interested in food security," approached Blue Sea Labs with interest in the software it had built for selling seafood online. (Two Fish is using the system put together by Blue Sea Labs.)
"Depending on who you ask, your fish passes between five and 10 middlemen before it reaches you," says Reed, and the seafood industry is generally plagued by issues with transparency and efficiency. With technology, he says, consumers can get "closer to their fishermen."