If you're an Apple user, be prepared to have Beats, the streaming-music service the company acquired for $3 billion earlier this year, forced down your throats. However you feel about that, the implications for the streaming-music landscape—and indeed the entire music industry—could be far-reaching.
The Financial Times is reporting (paywall) that Apple will include Beats in the next update of its iOS mobile operating system next year, which could effectively give the product a permanent spot on the home screen of millions of Apple devices. Today's story echoes similar reports from recent weeks (paywall) about Apple integrating Beats into iTunes or merging the two brands.
Beats, co-founded by Dr Dre, was the biggest acquisition in Apple's history, so it was always on the cards that Apple would do something splashy with it. How big of a deal is this? As the FT points out, Apple has sold more than 800 million mobile devices, and there are 200 million active iTunes music users.
Yet Apple's track record of thrusting services on to its users is mixed. iTunes Radio, a less comprehensive product than Beats (only allowing for passive listening, rather than music-on-demand) has been underwhelming.  A more recent decision to give U2's latest album to all iOS users was met with outrage and ridicule.
On the other hand, Apple Maps, widely panned at launch, is now used quite frequently.
In any case, Apple would only need to convert a fraction of device/iTunes users into Beats subscribers to seriously challenge Spotify (which now has 12.5 million paid-up subscribers) as the biggest streaming service out there. Credit Suisse earlier this year forecast that global streaming-music subscriptions would rise from less than 20 million currently to almost 150 million by 2025.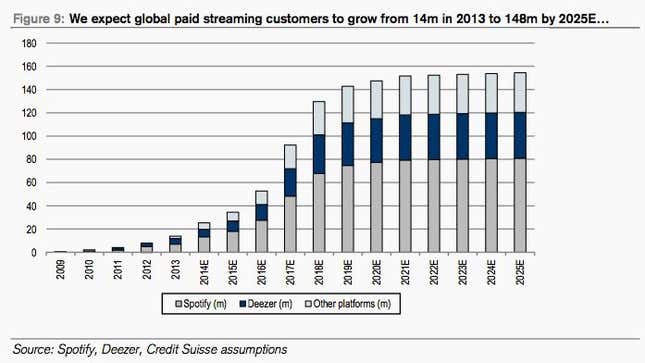 Since the cost of a streaming subscription, at roughly $120 a year, is more than the average consumer spent on music, even at the industry's peak (before the internet savaged sales) this could help the recorded music industry stem its shrinking revenues as soon as next year, and then return to growth.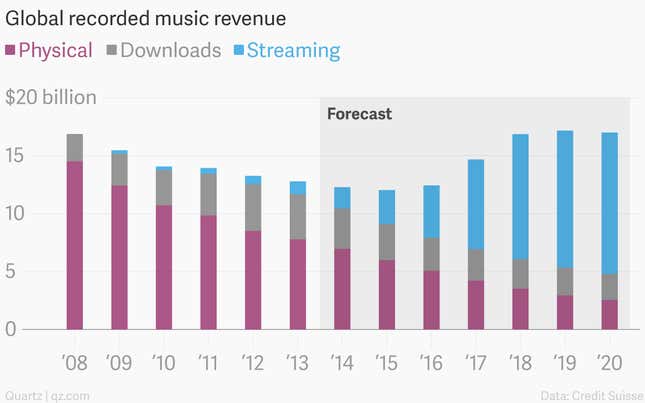 Which is all a very long way of saying that Apple might be about to change the music industry all over again.