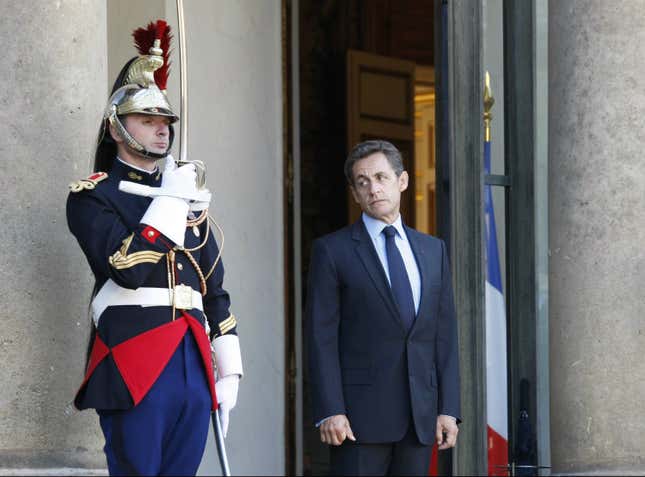 Former French President Nicolas Sarkozy goes to court today in Bordeaux to answer questions on whether he "abused the feebleness" of the country's wealthiest woman, L'Oréal cosmetics heiress, Liliane Bettencourt, when he allegedly received illegal funding for his 2007 presidential campaign. Although the French press has made much of Sarkozy being in court—some say fueled by Leftist opponents—the litigation today is not really about Sarkozy.
The trial is part of a larger case known as the Bettencourt Affair, which started back in 2007 when Bettencourt's daughter and only child, Françoise Bettencourt-Meyers, filed a complaint against François-Marie Banier, a French society photographer. She claimed the photographer exploited his cozy relationship with her mother to the tune of roughly a billion euros in gifts, financial assets, and works of art. The case is over whether the elder Bettencourt is mentally-fit to run her own affairs, and whether Sarkozy should be treated as a witness in this case, or as one of many who took advantage of her.
Sarkozy got embroiled in the mess in 2010 when the case began and Bettencourt's former accountant, Claire Thibout, claimed that it wasn't unusual for French politicians to receive envelopes stuffed with cash from the coffers of the L'Oréal heiress, including €150,000 ($192,000), allegedly destined to fund Sarkozy's presidential ambitions.
Sarkozy has admitted visiting the Bettencourt home, but says it proves nothing and he never received over-the-limit campaign contributions. More damning in the eyes of the public, though is a suspicious link between Sarkozy's former chief fund raiser and a member of Bettencourt's staff. Florence Woerth, a financial adviser employed at the time by Bettencourt, is married to Eric Woerth, who in 2010, was the government's budget minister, as well as treasurer and chief fund-raiser for Sarkozy's UMP party. Both he and the party allegedly received donations from Bettencourt. Eric Woerth eventually resigned as treasurer of UMP over the scandal.
Whatever emerges from today's questioning is in some ways irrelevant. Sarkozy has already been tainted by the scandal, in which there are also allegations of tax evasion by Bettencourt. The messy trial, and the former president's appearance at it, could dash any hopes for a political comeback, which Sarkozy has not ruled out.