The latest version of Spotify's financials have surfaced, and they suggest that the world's biggest streaming-music service is scaling nicely—or at least it was at the end of 2013.
The accounts for 2013 which Spotify submitted to regulators in Europe, were obtained by the music business website Musically. They show that Spotify generated €746.8 million in revenue in 2013 (just shy of $1 billion at current exchange rates), which was an increase of about 74% from 2012.
And that was at a time when the Sweden-based service was much smaller than it is today. Spotify revealed earlier this month it has 12.5 million paying subscribers and 50 million active users. According to the accounts, it had 8 million subscribers and 36 million users at the end of last year.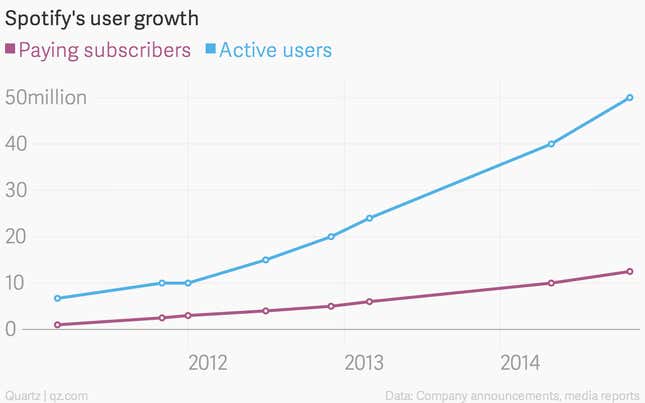 Royalty costs (up 57%) did not increase as quickly as revenues. And overall, the company's net loss narrowed by about a third to €57.8 million—the bottom line was boosted by €39.4 million in "finance income," which appears to be related to an adjustment to the value of stock options it granted.
On the other hand, the €605 million in royalties Spotify paid in 2013 work out to more than 80% of its revenue, even higher than it had previously indicated (70%).  Industry sources have told Quartz that Spotify's ability to reduce its royalty cost burden is constrained by the direct deals it must sign with the big record labels to get access to the music it needs to operate.
Those deals are highly confidential, but have reportedly involved Spotify paying upfront fees and giving up equity to labels, in exchange for access to music. They are also thought to explicitly fix Spotify's royalty costs at a high percentage of its revenue.
All of which suggests it is extremely difficult to make any money if streaming music subscriptions is your primary business. It's less of a problem for the likes Apple and Google, both of which have incredibly profitable core businesses that can underwrite their nascent streaming operations.
"We believe our model supports profitability at scale," Spotify reportedly says in the letter to shareholders, which has not been disputed by the company. And maybe it is right. Spotify has already achieved profitability in markets like the UK and Sweden, where it has lots of subscribers. In Sweden, where streaming is mainstream, it is now the single biggest source of revenue for record labels, and the key force driving overall industry growth.
If it can continue to grow in other big markets and make itself an indispensable revenue stream for content owners—which the likes of Credit Suisse think is possible—Spotify will have more leverage the next time negotiations with the labels come around.
And if the recent spat with Taylor Swift shows, leverage is something Spotify could find useful right now.