The latest numbers are in, and Hong Kong's pro-democracy movement—which officials in Beijing and their allies warned could devastate tourism in the city—may actually be helping it instead.
Tourism increased 12.6% during the month of October from a year ago, according to figures from the Hong Kong Tourism Board, and there was a whopping 18.3% increase in mainland China visitors during the month. That's over 4 million visitors from mainland China alone.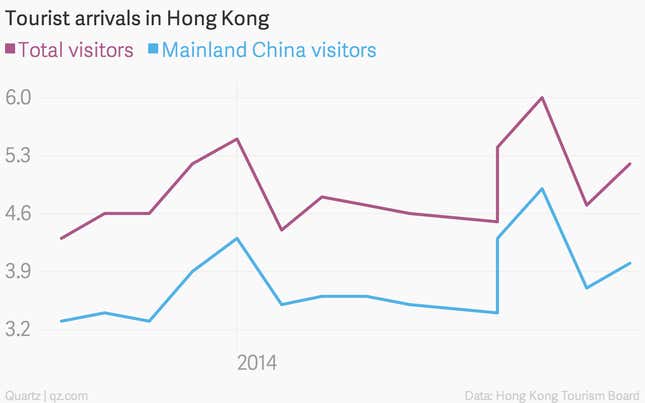 That increase in mainland Chinese visitors is particularly curious, because Beijing said it would ban package tours to Hong Kong after the protests started, and has censored all information about the protests on the mainland. Despite the clampdown, Beijing's ban on tour group visas only lasted for the first week of October. The number of tour groups from the mainland nearly doubled for the first three weeks of October from the year before, for an average of 380 per day, Hong Kong's Travel Industry Council reported.
Whether most, or even many, of those mainlanders are coming specifically to view the art, pro-democracy signage and nifty life hacks on view at the protest sites is unclear. But they've certainly been spotted taking selfies at the protest sites, and sometimes puzzling over the reasons behind them between shopping excursions.
The number of visitors from the Americas, Europe and Australia fell slightly for October, but they were more than offset by the increase from mainland China and a 7.1% increase in visitors from North Asia, which includes Japan and South Korea.
Tourism isn't the only sector to do better than expected. Retail sales in October also defied analyst predictions of a decrease, growing 1.4% by value, according to the Hong Kong census and statistics department. The rise is due in good part to the introduction of the iPhone6, which helped boost sales of electronic equipment by 23.6%. Sales of clothing, and watches, jewelery and luxury gifts fell, down by 8.8% and 11.6%, respectively. That could be due to the protests, but also might be explained by China's ongoing crackdown on corruption.