To say Facebook founder Mark Zuckerberg is on a China charm offensive would be a bit of an understatement. After speaking decent Mandarin during a thirty-minute Q&A in October and opening an office in Beijing (despite being blocked in China) in May, Zuckerberg is not only reading president Xi Jinping's recently-released book, "The Governance of China," he is reportedly buying it for Facebook employees.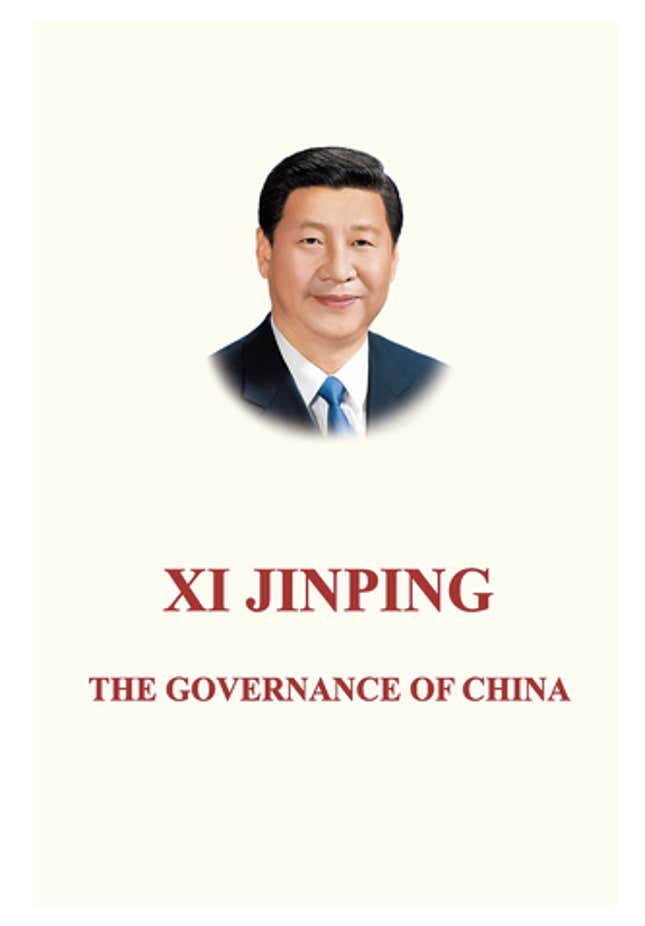 The head of China's State Internet Information Office, Lu Wei, the country's top censor, recently toured Facebook's offices, state media reported (link in Chinese), including a stop at Zuckerberg's desk, where the book was prominently displayed, according to Chinese state media photos. "I've also bought copies of this book for my colleagues," Zuckerberg is quoted as saying. "I want them to understand socialism with Chinese characteristics."
The reason for Zuckerberg's China focus is simple. Getting Facebook back into China, where it has been blocked since 2009, would put the company in front of 640 million internet users, and potentially provide a rich new stream of advertising, in the form of China app developers, as Quartz has reported earlier.
But while trying to understand modern China is a commendable task for an employee of Facebook or any other social media giant, it is unclear how much real insight Xi's book might provide.
The book is a compilation of Xi's "major works from November 15, 2012 to June 13, 2014," according to a state-run website, including "79 speeches, talks, interviews, instructions and correspondence in 18 chapters." So rather than any personal memoir or analysis of modern China's current economic, political or social situation, most of it is carefully worded and somewhat wooden propaganda, including quotes like:"To put it briefly, I will govern by serving the people and fulfilling the responsibilities imposed on me," and "Exchanges and mutual learning form an important driver for human progress and global peace and development."
That hasn't stopped the book, published in ten languages, from racking up some rave reviews. It is "an inspirational piece of work," according to a review by former German chancellor Helmut Schmidt, and, at least according to state media, is "captivating" audiences as far away as London.
Zuckerberg, on the other hand, was quickly rewarded for his latest attempt at charming the Chinese with mockery on the internet soon after his book recommendation went public, with this graphic created by Erik Crouch of That's.