In many of the world's fast-growing cities, there isn't enough room for people to live, let alone wildlife. Our friends beneath us in the food chain are becoming increasingly marginalized—world wildlife populations have decreased by about half over the last 40 years alone. Now, there's a plan to give urban homes back to wildlife. But these homes aren't quite urban. They're, essentially, giant floating trees.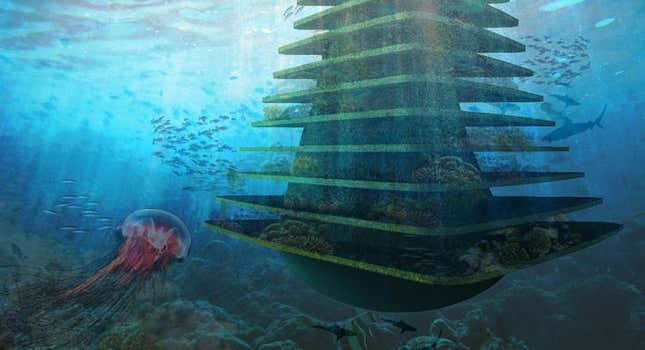 Waterstudio, a Dutch architectural firm that specializes in designing floating structures, wants to erect "Sea Trees" in major cities. The structures are multi-tiered, tree-shaped habitats that float near urban areas and could provide sanctuary for birds, bees, bats and small aquatic creatures that might not be cut out for city living in the 21st century.
Based on the technology in oil storage towers, the trees have multiple platforms for accommodating wildlife. The underwater portion can house fish and other sea creatures and even provide an artificial coral reef in climates that will allow it.
Koen Olthius, Waterstudio's founder, told Fast Company that the concept is ready to be implemented as soon as possible. "Our favorite locations would be Mumbai or New York," he said. "Both have such a high price on land that it makes the construction of new park zones on land not feasible."
According to Waterstudio, the design would cost approximately 1 million euros ($1.23 million) to build. The idea, of course, may never actually come to fruition, but it looks like a clever and innovative way for cities to give refuge to animals that badly need it.