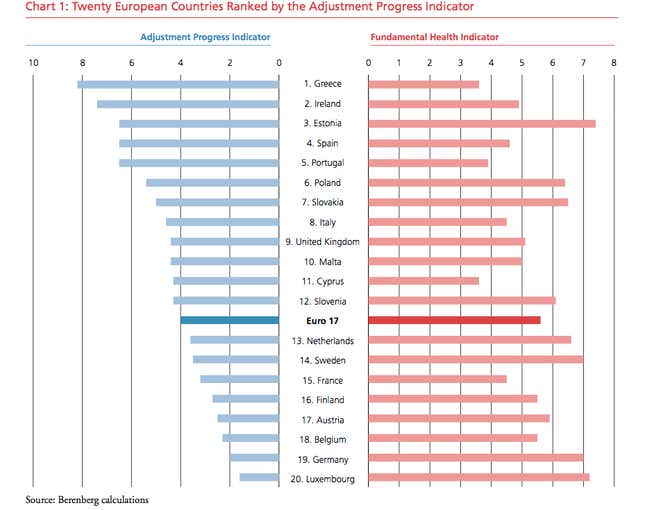 As European leaders bicker today over how to help Greece get back on its feet, one report says Greece and other troubled euro-zone countries are at least doing something right. The Lisbon Council and Berenberg Bank said in a study (pdf) just out that euro-zone countries hardest hit by the crisis were shaping up the fastest by aggressively slashing fiscal deficits and improving competitiveness. The current recession has obscured their progress, but if they can get through the financial crisis—which for some of them, is a big if—they'll be in good shape.
Many eurozone members are going through a wave of sweeping structural and fiscal reforms while the region as a whole is strengthening its governance structure. At the same time, other even more heavily indebted major economies such as the US and Japan are not. If the eurozone gets through the current acute crisis and stays on the reform path, it could eventually emerge from the crisis as the most dynamic of the major Western economies.
The study measured a number of factors including fiscal adjustments, changes to labor costs, swings in external accounts, as well as growth potential, competitiveness, and fiscal sustainability. Topping the list of countries who have made the most progress in these areas were Greece, Ireland, Estonia, Spain and Portugal—all countries, save for Estonia, who have also gotten external assistance and had little choice but to reform.
Faring less well on the survey were Austria, Finland, Germany, and the Netherlands. While these countries have required less reform, they have also done very little to improve their long-term outlook, said the report.
All the same, it warned, belt-tightening won't do any good if all it achieves is to strangle the country, as is the risk with Greece:
…the exceptional progress which Greece has made in slashing its structural fiscal deficit as well as its unit labour costs has not prevented an additional dramatic surge in Greece's debt-to-GDP ratio. For the sake of Spain and Portugal, Europe urgently needs to learn the lesson that fiscal shortfalls caused by an unexpectedly deep recession need to be tolerated and should not trigger further rounds of austerity.