This is a breaking story. We'll update this post as new information comes in.
Two men have taken a group of as many as 40 people hostage in a Lindt chocolate shop in Sydney, Australia, and have been holding them for several hours. Several hostages may have escaped.
The shop is in Martin Place, less than a mile from the Sydney Opera House, in Sydney's financial district. The siege began at about 9:45am Monday local time (10:45pm Sunday GMT). At one point, the hostages were apparently forced to display a black flag with what looks like Arabic script on it:
To follow updates in real time go to:
By just after noon local time, police had evacuated the nearby streets and had the cafe surrounded:
More than three hours later, 7news reported that three people were seen running from the cafe, including one who appeared to be a cafe worker:
Many on Twitter are referring to the flag displayed as an ISIS or ISIL flag, though it looks different from the one usually used by the Islamic State group.
It has been identified as a precisely-detailed reproduction of the shahada, the statement of faith that many Islamic militant groups use on their banners: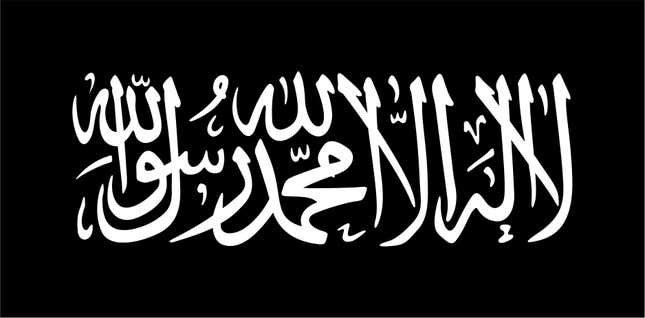 An estimated 90 Australians have gone to fight with ISIL in Syria and Iraq.
Earlier this year, Australian security forces broke up a plot by ISIL sympathizers to kidnap and execute an Australian citizen in Martin Place, the site of the Lindt cafe as well as the live TV studios for the Channel 7 TV station. The Sydney Morning Herald reports that Martin Place has long been seen as a potential terror target.