As Xiaomi has grown rapidly, and Lenovo's deal to buy Motorola from Google has closed, three of the world's top five smartphone vendors are now from China, according to third-quarter statistics released today by Gartner.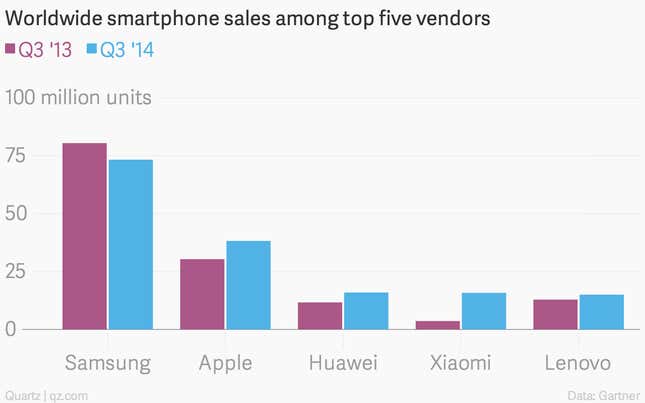 South Korea's Samsung and US-based Apple remain the world's No. 1 and No. 2 smartphone makers, by a significant margin, according to Gartner. But Samsung's third-quarter sales declined by 7 million units from the same period last year, while Apple's increased by almost 8 million, according to Gartner's tallies.
(Note: These estimates differ from Apple's officially released statistics. But Gartner is reporting "sales to end users" while Apple reports shipments—allowing for differences in inventory, among other potential discrepancies.)
One storyline worth paying attention to is the rise of China's Huawei, Xiaomi, and Lenovo, which now command a combined 15.5% of the global smartphone market. It's unlikely they'll immediately compete—outside of China, at least—at the high end of the market, where Apple dominates. But at the mid-to-low end, they are already a real force.
Making a profit there, of course, is another story. Our first glance at Xiaomi's finances, via a Chinese regulatory filing, suggest razor-thin margins.