When police dismantled the last protest site of Hong Kong's pro-democracy movement earlier this month, demonstrators pledged that they would be back. Now that the city has returned to normal, Umbrella Movement demonstrators and their supporters are starting to try out some of their new tactics.
A shopping revolution
After being kicked out of their protest site in Mong Kok, demonstrators have been going on protest "shopping trips" in the popular commercial center at all hours of the day. (The phrase gauwu geming or "shopping revolution" is also a reference to Chinese tourists who admitted that they participated in a pro-government rally in Hong Kong over the summer to "go shopping.")
Unsurprisingly, the police aren't amused. Last weekend, 14 protesters were arrested for participating in what authorities said was an illegal assembly. More "shopping" is planned for this weekend, though there is some disagreement between protesters, with accusations that the more moderate demonstrators are only there to get their Christmas shopping done.
Protest caroling
Just before police cleared the last protest site in Causeway Bay, a church group organized a Christmas street performance where carolers sang a rather politically charged version of "We wish you a Merry Christmas."
The protesters sang in Cantonese, "Whole world remember—elders, middle-aged, young people—[we] need to persist to get universal suffrage. All citizens decide for themselves." After slipping into English for part of the chorus, they then urged people to participate in protest shopping. They sang, again in Cantonese, "We wish you a shopping trip. We wish you to be careful with the police. Shopping every day. It's legal to be on pedestrian street."
Groups plan to do more protest caroling throughout the month.
Tax tactics
The "Conscientious Tax Resistance Movement" has pledged to make it harder for the Hong Kong government to process taxes by asking people to give the government checks in annoyingly small amounts of HK$6.89, $68.90 or $689. Critics of the city's chief executive CY Leung often refer to him as "689," a snarky reference to the number of votes he received from an election committee to win his current seat.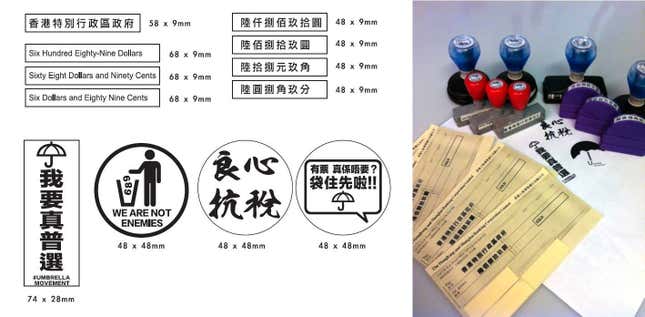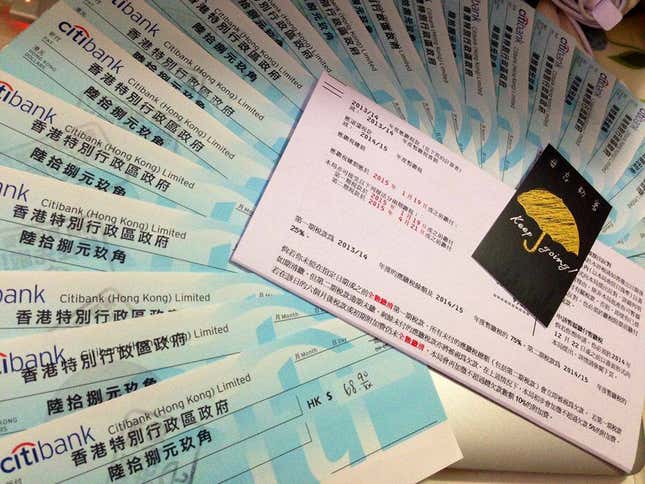 The Hong Kong Federation of Students and other groups that organized the Umbrella Movement protests are arguing that "Taxpayers' money should not be used to feed a violent government."
Tenants in public housing have also been asked to delay paying their rent as long as possible without getting evicted. If both campaigns end up proving popular, the impact could be substantial: Hong Kong is home to 2.3 million residents of public housing and 1.74 million taxpayers.