Updated at 7pm HK time.
HONG KONG—Some of the world's politest protesters had to say farewell to their home of the last few months today, as police cleared the city's main pro-democracy protest site, demolishing the demonstrator's encampment and arresting those who refused to leave.
Police, bailiffs, and employees of the All China Express bus company—whose lawsuit resulted in a court order to clear the site today—systematically took down the barricades that ringed the protest area. The mood was calm and methodical on the part of the police and workers, who paused for a lunch break at one point. As of early evening, little was left of the site. Dump trucks were crushing and scooping up piles of trash, plastic helmets, the odd megaphone or chair, and torn posters.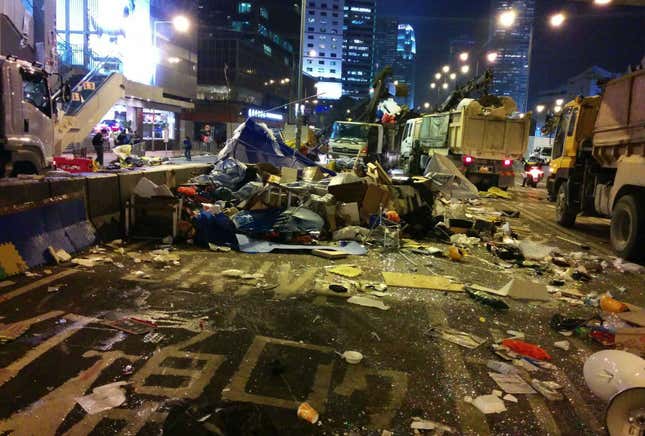 Many protesters had already removed themselves from the area in the city's center. But a few hundred demonstrators, heeding a call from student leaders to fill the protest grounds at Admiralty, conducted a sit-in on their last remaining patch of territory.
A passerby who works in Admiralty and has watched the protests from day one stopped to watch. "So this is how democracy dies," he said, "a bunch of bailiffs in hard hats."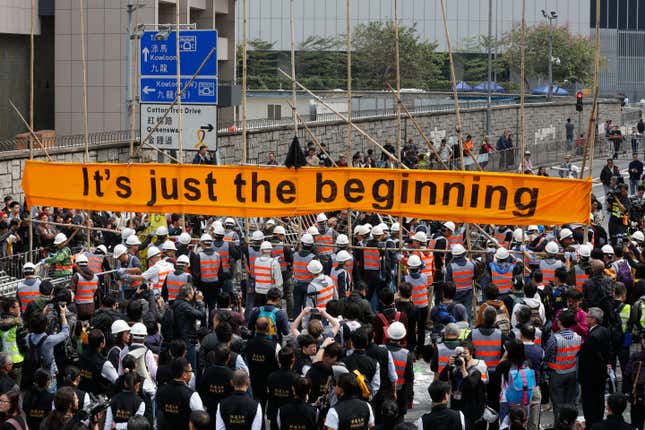 After removing barricades at the west end of the protests, rows of police marched into it from all sides, tearing down tents and banners and clearing debris as they went. At about 4pm local time, police issued several "last warnings" for remaining protesters, who were gathered at an intersection near the Hong Kong government's headquarters, to leave the area.
"You are now participating in an unlawful assembly, you must now leave in an orderly manner," one officer said through a loudspeaker. None of the remaining protesters, who numbered several dozen, moved.
The officers then slowly began to make arrests. As the protesters chanted "we are not afraid" and "I want democracy," policemen and policewomen spoke to the protesters one by one before picking them up and carrying them away.
Martin Tang, a 23-year-old student, was kneeling in the last row of the sit-in as the police started moving in. "It's not the end, but a real start," he said, raising his yellow umbrella high. "This umbrella is to remind myself I am here waiting to be arrested, not because I'm silly… but because I have faith."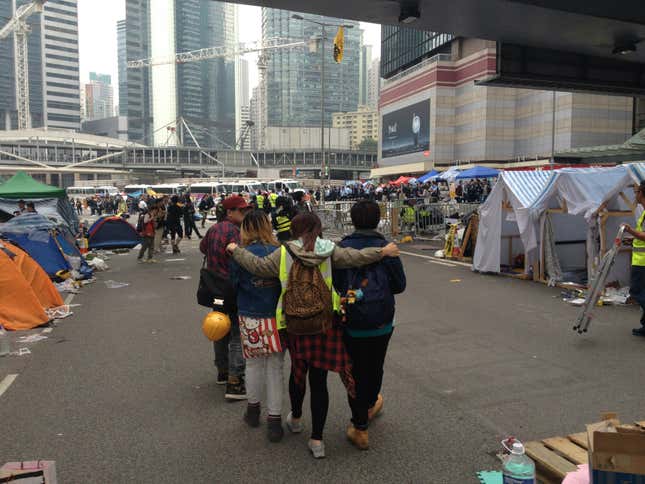 As the police cleared the area that once made up the encampment's study zone, Jazy Li, a 22-year-old student, was still sitting with her classmate on a concrete divider.
"We fought to win this place—I don't want to leave it," she said, explaining that she had been present almost every night since the protests began 74 days ago. After local journalists encouraged her and her friend to leave and avoid arrest—showing them a poster that said "leaving is for coming back"—the two agreed to leave, with Li's friend in tears.
Shu Kei, chairman of the film and TV school at the Hong Kong Academy for the Performing Arts, was among about 20 academics, lecturers, and scholars who donned formal gowns to attend the protests. He said they were there to bear witness and keep an eye on their students.
"We want to make our presence known," he told Quartz in the early afternoon. A group of his students were seated nearby, at the edges of the sit-in that marks the protesters' final line of resistance. "If the police use force or perform violence, we will provide vision," he added. Will the scholars get arrested? "We are going to try not to."
Members of the city's Independent Police Complaints Council were also on hand, according to the Wall Street Journal (paywall).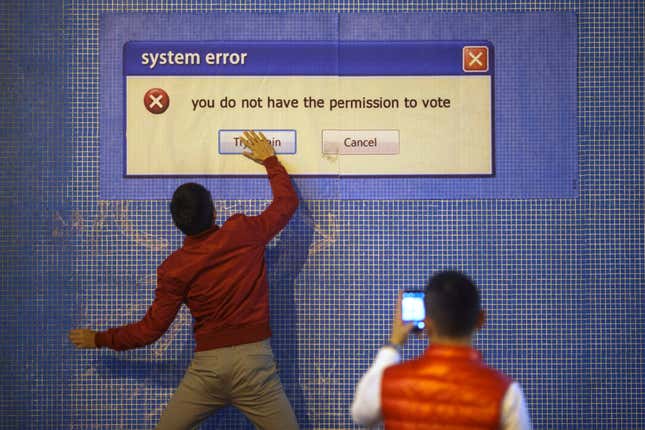 Earlier in the day, as some protesters packed up their tents and belongings and said goodbyes, others were settling in to await arrest. A group of pro-democracy politicians and Apple Daily owner Jimmy Lai Chee-ying were part of the sit-in on Harcourt Road near Tim Wa Avenue.
"We're waiting for something to happen—democracy, I think." Democratic Party chairwoman Emily Lau told reporters.
Yip, a 25-year-old student, was near tears as she walked through the crowd trying to get rid of a case of bottled water so it doesn't wind up in the trash. "This was a waste of people's efforts, because nothing changed," she said. "This site became a village but it will be nothing after today."
Wang Dengyao, a 55-year-old retired steel worker from Beijing, climbed a ladder to shout to a crowd, "Everyone, I represent citizens from Beijing to give you support!" Wang, who participated in the 1989 Tiananmen Square protests, arrived in Hong Kong a few days ago, and has been sleeping in tents and eating instant noodles with local protesters. He wanted to see for himself whether the mainland media's portrayal of events in the city were true. Back home, "people will not know the truth," he said. "Nothing will change."
"At worst, I'll be kept in jail for several months," he said. "It's my first time [in Hong Kong], but might also be my last."
Protest groups said that just before the demonstration site was dismantled, police arrested a number of pro-democracy activists for illegal assembly and related charges, including Wong Yeung-Tat, head of the group Civic Passion, and Student Front leader Alvin Cheng.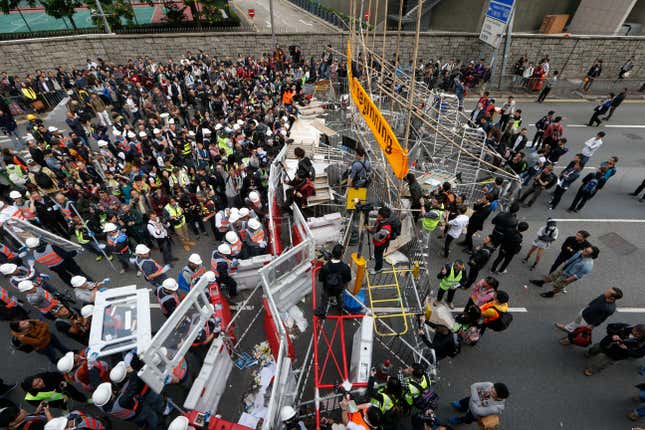 Leo, 28, a window repair worker, was on the front line of the sit-in. He was carrying a shield and wearing a motorcycle helmet, protective clothing (including pads for his knees, ankles, and genitals), and a skull mask. He said he was ready to protect the students from police batons and pepper spray; the skull mask was because he did not want his parents to recognize him.
"It's half of the victory. The movement let people know more clearly about the changes that happened in the past 17 years," he said. "The next time when there is a movement, we will have more peoples' support."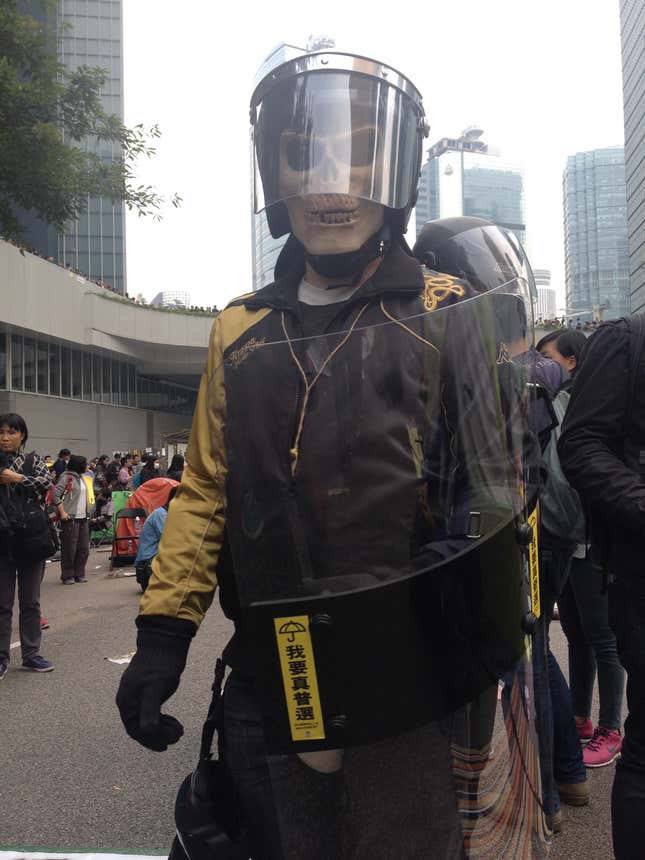 As dozens of police vans lined up along the road leading into the protest site in Admiralty, student leader Alex Chow vowed that today would not be the end.
"More mass movement will be coming," Chow, the head of the Hong Kong Federation of Students, told reporters.
Still, many had already cleared out. After weeks of recycling and picking up litter, the site is strewn with food containers, water and beer bottles. There was also a huge amount of unused supplies—everything from instant noodles to shampoo to plastic wrap. A number of senior citizens picked through the left-behind belongings, carrying away large bags filled with items.
Even before the site was cleared on Thursday, most of the protest site's most recognizable landmarks have been dismantled, including the "study hall" that offered desks, and sometimes Wi-Fi access, for students:
The "Lennon Wall," a repository of tens of thousands of Post-It note messages from supporters, has been archived:
Over the past few days, several artist collectives have been coming in the early hours of the morning to quietly whisk away iconic pieces of protest memorabilia to undisclosed storage locations, perhaps so they can be redeployed at a later date.
They've been trying not to attract much attention because removing the objects has been "demoralizing for the people who want to sit there and fight to the last," said Kacey Wong, an artist and member of one such collective. "Physically it may look like defeat, but it is not. We're just moving the battlefield."
Additional reporting by Adam Pasick.
This post has been updated throughout.