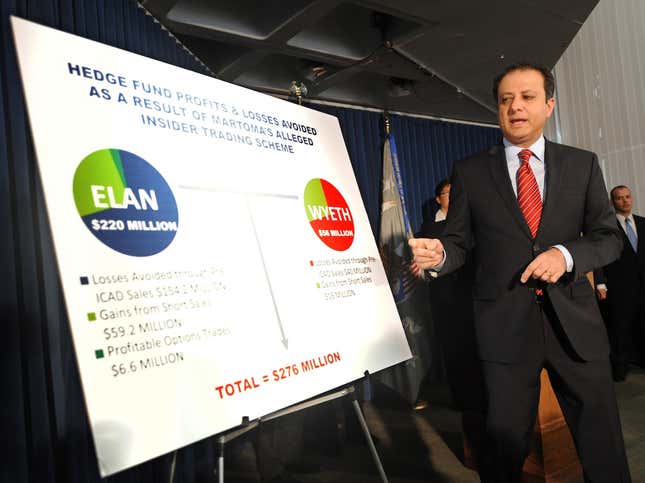 Steven A. Cohen's secretive hedge fund, SAC Capital Advisors, told investors on a call that the Securities and Exchange Commission is weighing action against the $14 billion fund. It would be the most direct regulatory salvo yet against SAC.
The Feds have been interested in SAC Capital for a while. As far back as 2010 they were poking around the firm, including trying to get a man who was under investigation for allegedly passing insider information to hedge funds to tape his calls with SAC. The most recent bite came earlier this month when regulators accused Mathew Martoma, a portfolio manager who worked for an SAC affiliate, of corrupting a doctor who had access to secret drug trial information. That alleged scheme amounts to what prosecutors describe as the most lucrative insider-trading case ever unearthed.
Broadly stated, this is all under the umbrella of the furor over Wall Street relationships with so-called "expert networks", companies that connected investors such as hedge funds to executives from various industries who could offer "insight". Such insight seemed to step over the line from time to time. And people ranging from corporate employees to consultants, to traders, to once-mighty figures in the hedge fund world, such as Galleon Group's Raj Rajaratnam, have ended up on the wrong side of the law as a result of such networks.
It is worth clarifying, though, that Mr. Cohen himself hasn't been accused of any wrongdoing. The Wall Street Journal (paywall) has a good guide to who's who on the SAC probe.